Cantina - Part I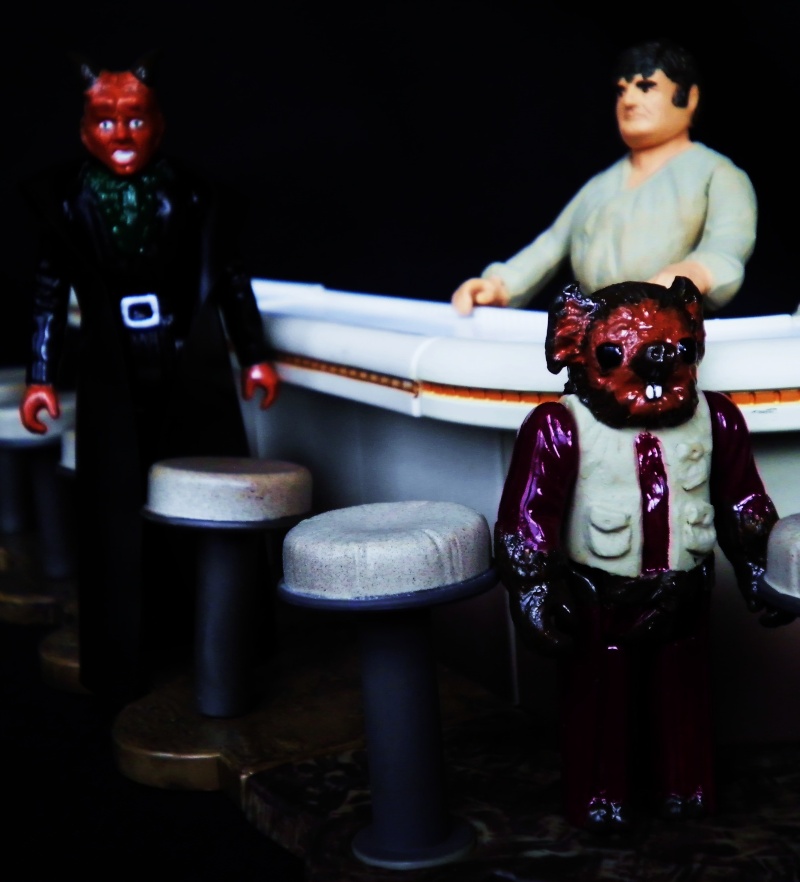 Wuher
---
Labria
---
Kabe
---
Construction
Wuher is basically a Rancor Keeper with hair for the top half, Weequay for the legs and the arms of Nikto.... oh and Lando Skiff's hands  

The arms at the wrists whjere shortened after this picture as they looked way to long when attached to the body, thanksfully I I constructed the figure prior to painting and discovered this. The rest of the body was constructed using Milliput.
The head is basically a Rancor Keeper's head and I simply cut away all the back, top and sides and then constructed his hair using Milliput.
Labria was made using the body and legs of Squid head, the arms of a B-Wing Pilot and the head of Bib Fortuna. I carved away the tentacles from the Bib head and shaped it into a normal head and then constructed the horns using Milliput. I also used Milliput to create the scarf, collar and belt buckle on the torso.
Kabe was definately the most fun to make. His construction is an Ugnaught torso and arms, Wicket head and hands, Ugnaught nose and Ben Kenobi legs cut in half with Wicket toes  

Originally I cut off the Wicket head and hollowed out the face and then inserted the ugnaught nose and eyes.
Ultimately though the eyes where in the wrong place and didn't look right so I covered them up and constructed new ones using Milliput. I aloso cut away the top of the ears and then used Milliput to extend the ears and make some teeth.
I carved a jacket into the torso front part and then added a belt and pockets using Milliput. The arms are ugnaughts with Wicket hands and Milliput added fur to the wrists at the connecting point.
The legs are Obi-Wan Kenobi legs cut in half. I carved a dip at the top to create the belt and then cut a 'V' out at the bottom and added two toes off Wickets feet on each leg.