Larry, thanks, you are a star! It seems the same moulds did appear on Plong bubblegum and you were good on the date too as they were early 70s.
I found pics online of the figurines, and after some digging it seems they were originally made by Jean Höfler and licensed out to Plong in North America.
From: http://www.blechroboter.de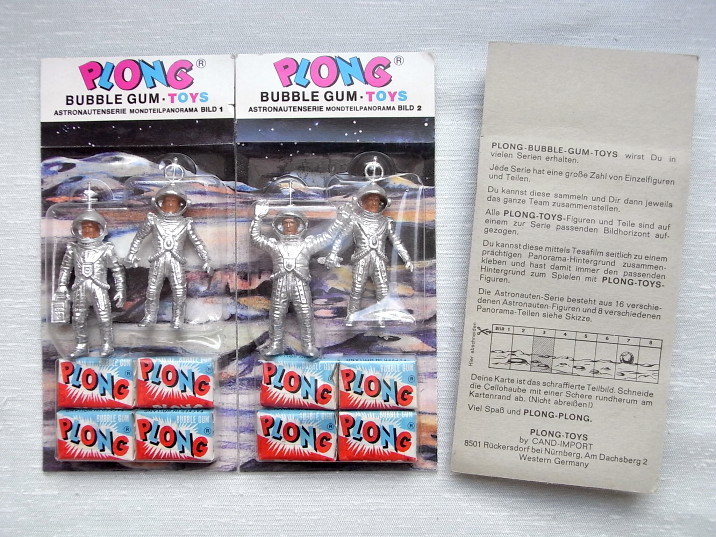 Info from: http://www.blechroboter.de/info/jeanhoefler/index.html using Google translate.
"The first moon landing with the astronauts Armstrong, Aldrin and Collins was very popular with young and old. So JEAN brought as a souvenir in 1970 a set of six! Astronauts against the backdrop of the moon. The names of the three Apollo-11 astronauts and the date of the moon landing on 20.7.1969 were printed on the box.
Probably a little later, the complete eight-part astronaut series appeared mounted on the blister card with the moon. The name was now "Luna Astronauts". The size of the figures was 7cm, so the scale was 1:25. Together with the "Luna Station" four more, half as large astronauts were sold with 3.5cm height.
At the beginning of the seventies JEAN developed the Luna Station play set. It contained a rocket, a three-legged spaceship, two lunar vehicles, an astronaut space sled, and four small astronauts. The set was made in red / white and white / red and delivered in a display box to the trade. The mineral oil company ARAL sold the Luna set on a blister card at petrol stations in the corporate colors blue and white.
The Luna Station was offered together with silver astronauts. For this purpose, four figures of the total eight-piece astronaut series were reduced to half size, 3.5 cm, and provided with a base for stability. As with the larger Wild West figures and knights, the base mark was "W.Germany"."
Pic from: http://www.blechroboter.de/info/jeanhoefler/index.html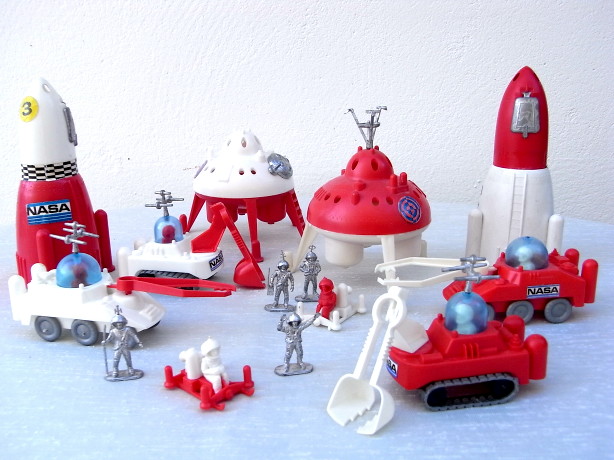 _________________________________________________
Paul F,

thevintagetoyadvertiser.org 1970s and 80s vintage toy ads and other retro paperworks

imperialgunnery.com Vintage Star Wars action figure weapons and accessories guide