At Home With Admiral Ackbar
Part 3
Ahar! I was having a nice cup of tea with my pals R2 and R5.
R2: Beeep Vreeep hey Admiral, got any old stories to tell us?
R5: Beep beep vroop yes! Please tell us about your adventures!!
Ho Ho! Ok mateys, maybe I'll tell you about the time I had a run-in with the notorious Cantina Gang!!!
R5: the Cantina Gang?
Yes! A vicious bunch of thugs who would ride around on their hot rods looking for trouble!!!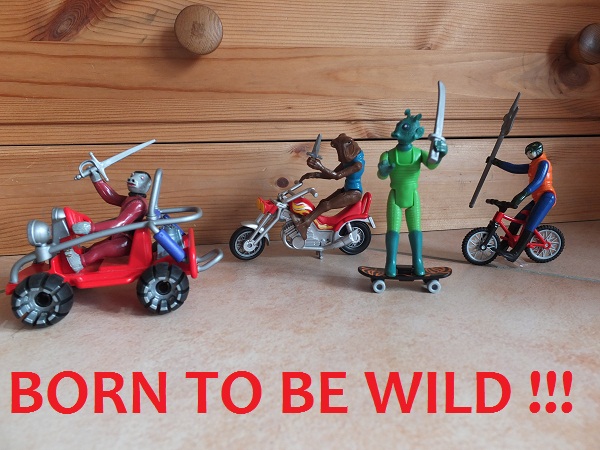 Everyone was scared of them! Even Chewbacca and Boba Fett would tremble at the mere mention of their name!!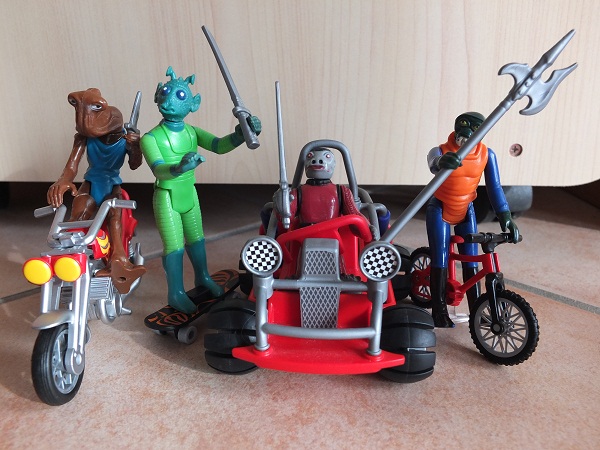 R5: Vroop vroop Wow! Please tell us more Admiral!
R2: Beep beep boop! Yes we want to know what happened!
Ho ho! Ok, settle down mateys and I'll tell you all about them........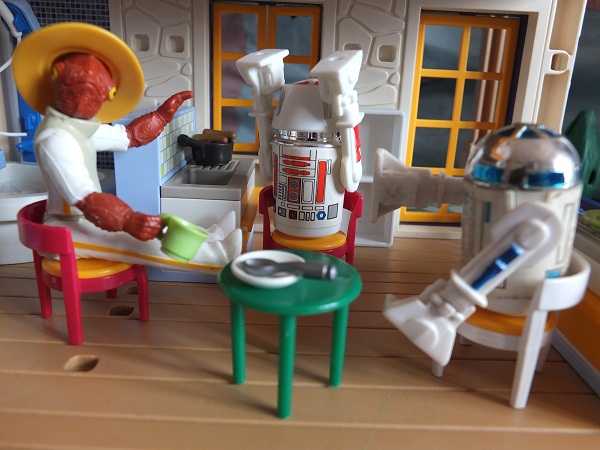 .......It all began one Sunday morning. I was cooking eggs for breakfast and looking forward to settling down to do my morning crossword.....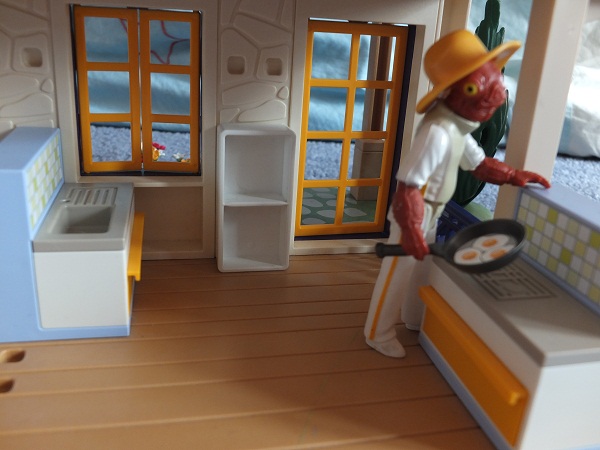 ......suddenly four terrifying faces appeared at my kitchen window! It was the Cantina Gang! Curse them!!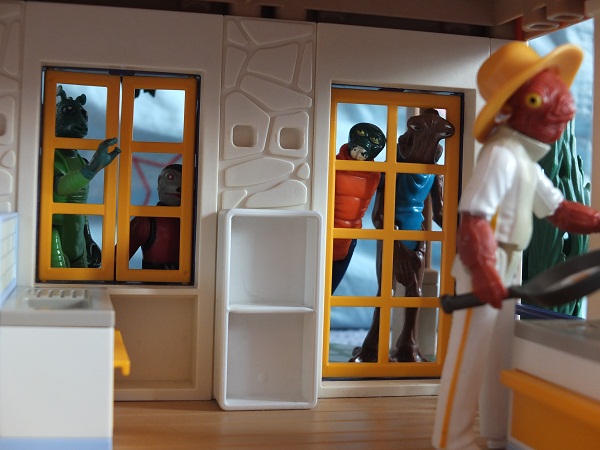 Cantina Gang: Oy Ackbar you old fish face! Give us all your money and food!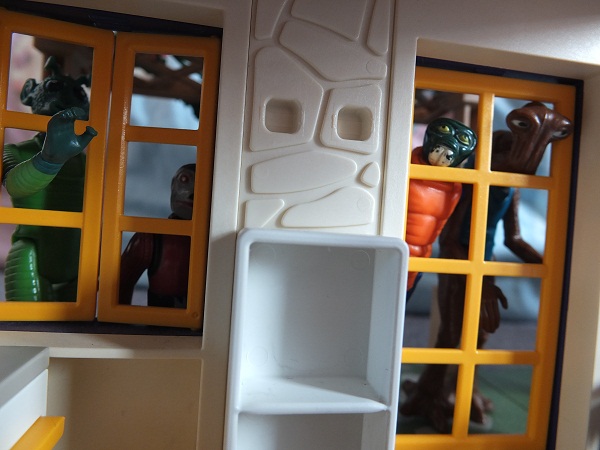 By the great beard of Neptune!!! I'm doomed!!!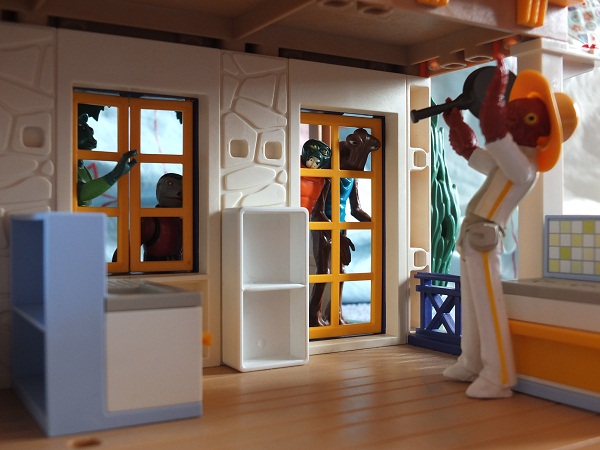 The brutes! In no time at all they began smashing up my mansion! That rogue Greedo was giving me a right panning with my eggs! Curses! They were my last three as well! Now I will have to have Cornflakes!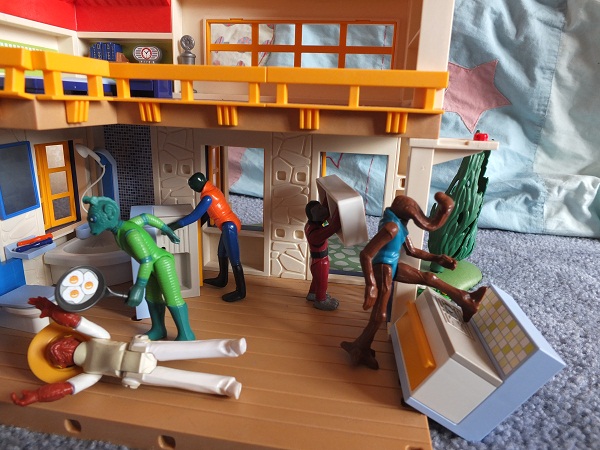 Cantina Gang: FLUSH! FLUSH! FLUSH!
Gloop! The others cheered as Greedo proceded to flush my head down my toilet! Good job I had cleaned it recently!
*Note to self: Must buy more pine disinfectant next time I go shopping! Ahar!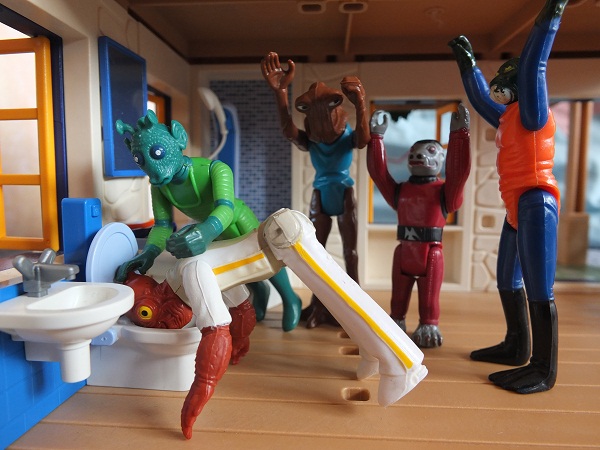 Cantina Gang: SHOWER! SHOWER! SHOWER!
Ahhhh! Next, that thug Hammerhead began to shower me with freezing cold water! Brrrr! The others cheered him on.... but they wouldn't be laughing for much longer!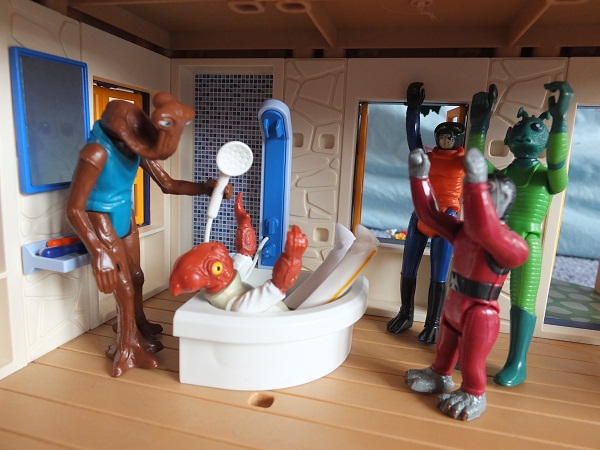 Because who is that mysterious dark faced creature appearing at the window.....
Black wampa: Alright Admiral, everything ok?
Hooray!!! It was Black Wampa who was just passing and decided to call in for a cup of tea! I was saved!
Black Wampa: Are these aliens giving you some trouble?
You could say that!!!!
Black Wampa: Righty ho. Leave them to me....
My hero! Black Wampa burst through the window and began bashing the nasty Cantina Gang! Take that! Biff!! Pow!! Bosh!! Kapow!!
Cantina Gang: Aiiieeee!! Run!!!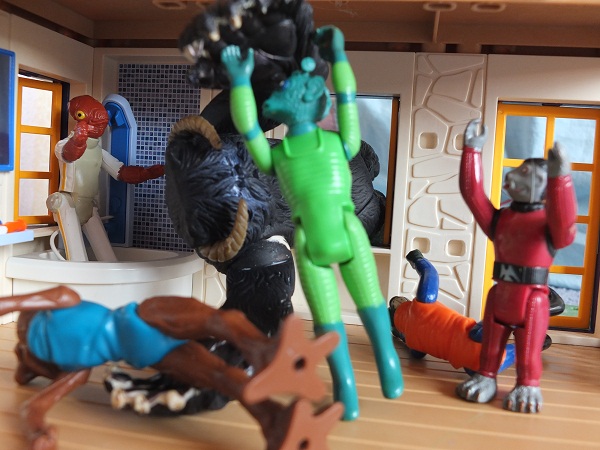 The Wampa soon had the gang under control!
Black Wampa: What do you want me to do with them, Admiral?
Ahar! I have the perfect task to keep them out of mischief! They can clean my swimming pool! It hasn't been cleaned for months!
Ahar! That's it boys, keep up the good work!
Black Wampa: Hurr hurr hur!
Cantina Gang: Bah! We hate cleaning!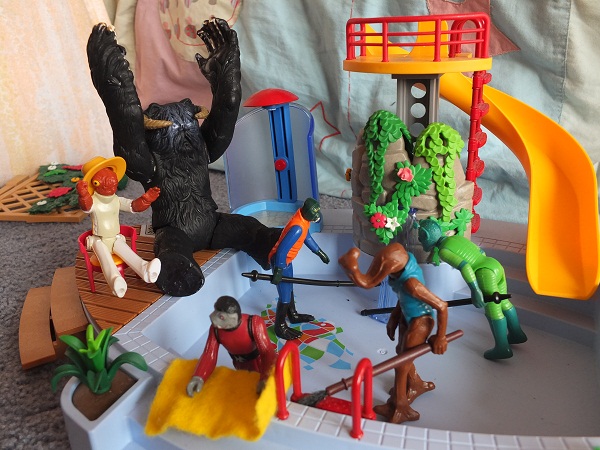 As a reward I gave the Wampa a trophy for his bravery! He was very pleased with it!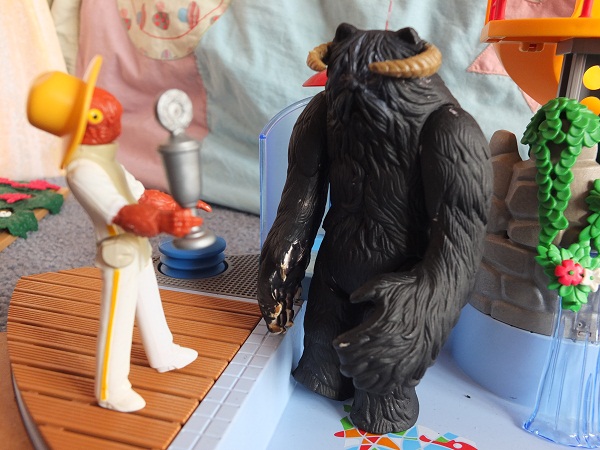 Then we had fun playing on the water slide in my nice clean swimming pool. Luckily the day had turned out well.... thanks to Black Wampa!
R2: Vreep vroop! What a great story Admiral!
R5: Vroop! Yeah... but you don't seriously expect us to believe in the existance of the Black Wampa do you?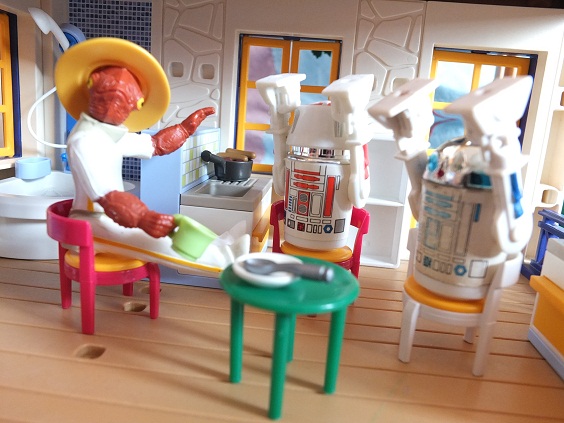 Ho ho! Do you want to tell them or shall I?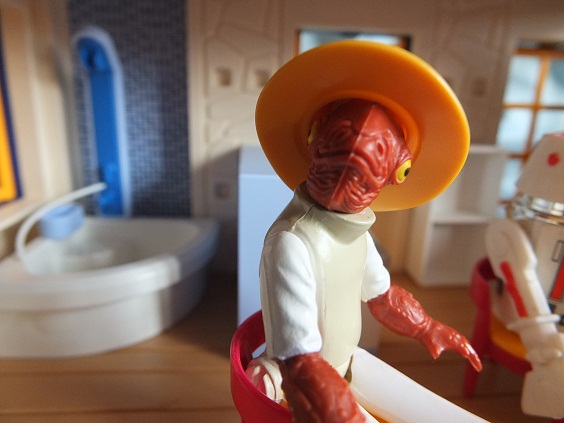 Black Wampa: Morning Admiral! Any chance of a cuppa?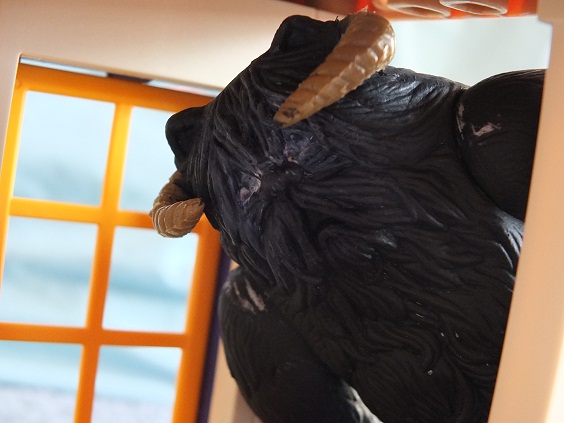 FIN
A TIG cheapo production. No SW figures, Playmo or Black Wampas were harmed in this production.