***
THE LILI LEDY GUIDE & DISCUSSION THREAD
PART I
(Part II of the Lili Ledy Thread can be found here ).
TABLE OF CONTENTS
INTRODUCTION
Have you ever purchased a figure assuming it was Lili Ledy because of the matching Country of Origin (COO), but in the end it appeared to be Kenner? It happened to me a few times (
Ackbar
, Chewbacca,
Rancor Keeper
).
Thanks to the knowledge of fellow TIG members the figures were 'unmasked', because they have slightly different paintings compared to LL figures.
Maybe some of you share the same experience and therefore I thought it might be a good idea to start a thread filled with side by side pics of Lili Ledy and Kenner figures to allow a good comparison and initiate discussions.  
WHAT IS LILI LEDY?
Lili Ledy was a toy company in Mexico that acquired a license to produce the 3 3/4"line of Star Wars toys in 1982. The reason Kenner did not just export figures to Mexico was because of Mexican's protectionist trading laws at that moment, stating that toys for the Mexican market had to be produced in Mexico. After a successful market test with a limited set of figures on "Imperio Contraataca" cards, Lili Ledy decided to produce Star Wars action figures on the larger scale. By the end of 1985, Lili Ledy had produced no less than 50 different figures for the 3 3/4" line.
The reason Lili Ledy figures (in short Ledy or  LL figures) are so interesting to collectors is that they are different compared to Kenner figures. The differences can be obvious or more subtle and reflect the used sculpt, plastic, paint or accessories (capes, weapons, etc.).
Some examples just to give you an idea how Ledy figures can differ compared to Kenner:


Sculpt:
- Short instead of long mask Biker Scout
- Unique COO for Nien Numb

Plastic:  
- Hard (more detailed) instead of soft torso Stromtrooper
- Tanned instead of pinkish moulded face for Leia Boushh

Paint:
- Unpainted wrist button for Star Destroyer Commander
- Almond instead of round sprayed eyes for Jawa
- Vibrant yellow instead of pale yellow boots for Cloud Car Pilot

Accessory:
- Lightsaber with thicker tip for Darth Vader and Ben Kenobi
- Burgundy instead of gray cape for Bib Fortuna

These and many other differences will be discussed in the entries for the Lili Ledy figures in this thread. Figures which have been discussed are indicated in yellow in the listings below. Just click on the hyperlink to go to the figure's entry.
WHAT IS A COO?
COO stands for Country of Origin. However in the context of this thread (and many other threads) it had a broadened meaning and stands for any combination of marks on the figures indicating:
1)
Country
where the figure was produced, for instance;
- "China"
- "Hong Kong"
- "Japan"
- "Macau"
- "Made n China"
- "Made in Hong Kong"
- "Made in Macao"
- "Made in Taiwan"
- "Taiwan"
- or no country mentioned ("no COO"). In this case the country designation may be 'scratched' away from the steel mould or was never applied in the first place (this is the case for the last 17 figures).  
2)
Copyright
, for instance:
- "
L.F.L." (Lucas Film Ltd.)
- "G.M.F.G.I." (General Mills Fun Group, Inc.)
- "
C.P.G." (Consumer Product Group, of which GMFGI was a branch)
3)
Year,
for instance 1977, 1980, 1985.
LILI LEDY FIGURES SHARING THE SAME COO AS KENNER
On top is a list of Lili Ledy figures that were produced from steel moulds that were also used by Kenner.
This means that these Ledy figures CAN NOT be distinguished from Kenner figures by solely looking at the COO or sculpt. The unique differences are therefore to be sought in the used plastic, paint and accessories.
One more thing: Forget about the myth still being spread by some ebay sellers that a no COO is an unique identifier for Lili Ledy figures. It is just plain wrong.
So to give you an example: A Ben Kenobi with an extended right index finger and COO
#7
in Wolff's guide might be a Ledy figure but chances are higher it is a Kenner figure which was produced from the same steel mould. The paint of the eyes and the beard should therefore be the specific Ledy traits here which help you to decide: Ledy or Kenner?
Most plastic accessories (guns, sabers, staffs) that came with the figures in the top list, were produced from moulds that were also used by Kenner. This means that these Ledy weapons can only be distinguished from their Kenner counterparts based upon (subtle) differences in the used plastic. A few examples to give you an idea:


Colour difference:
- Leia Poncho grey instead of blue gun
- Nikto dark grey instead of light grey vibroblade
- Han Solo Trech Coat black gun

Appearance:        
- Matt instead of glossy Ackbar staff
- Matt instead of glossy Boushh rifle

LILI LEDY FIGURES HAVING AN UNIQUE COO COMPARED TO KENNER
On top is a list of Lili Ledy figures that were produced from unique steel moulds that were NOT used by Kenner before.
This means that these Ledy figures CAN be distinguished from Kenner figures by looking at the unique COO and sometimes sculpt. Besides there may be unique differences in the used plastic, paint and accessories.
Interestingly all these Ledy figures were also exported to the US on Kenner's "Made in Mexico" cards (see further).
The plastic accessories for these figures were cast from moulds that are different compared to their Kenner counterparts, which gives them an unique Ledy sculpt. Check it out:
- Biker Scout: unique gun mould, mostly with small "A", "B", "D"
- Chief Chirpa: unique staff having small "LL"
- Darth Vader: unique thicker saber tip
- Gammorean Guard: unique shorter axe
- Lando Skiff: unique thicker vibroblade, mostly with a small "A", "B"
- Logray: unique hood mould (different number inside), unique staff and pouche both with small "LL"
- Lumat: figure and its accessories were only produced by Ledy, so all Ledy unique
- Paploo: same
- Ree Yees: unique gun mould with little "Y", "S", "W"
- Nien Nunb: unique gun mould with little "L", "I"
- Squid Head: Unique belt mould with small "LL" on the inside. NO unique gun mould
- Yoda: This figure is the exception that proves the rule, as the moulds used for the snake, cane, and belt were also used by Kenner.
REMARK: The mould of some of these accessories were also used to produce weapons for other figures:
- Chief Chirpa's staff was used for The Emperor and Wicket (both cast in differently coloured plastic)
- Darth Vader's saber was used for Ben Kenobi (cast in blue plastic)
- Lando Skiff's vibroblade was used for Klaatu, Klaatu Skiff, and Weequay
- Nien Nunb's gun was used for Jawa, and TIE Fighter Pilot
SPECIAL FEATURES
COO DIFFERENCES
SMALL COO DIFFERENCES FOR ONE FIGURE
:
For most Ledy figures (and their Kenner counterparts as well) there exist COOs with only minimal differences. Most likely they indicate steel moulds that travelled together and were used in parallel during production of the figures in a factory. Therefore they do not seem to match with any other visible differences (for instance paint applications).
These small COO differences occur for instance for:
-Bib Fortuna
-Boba Fett (scar and split scar)
-C-3PO (two line COO with and w/o dent)
-Cloud Car Pilot
-Luke Jedi
-Nikto
-Teebo
-TIE Fighther Pilot (different scars from the same 'mother' COO)
Example of small COO differences for Luke Jedi: Position of "MADE IN HONG KONG" slightly shifted along the leg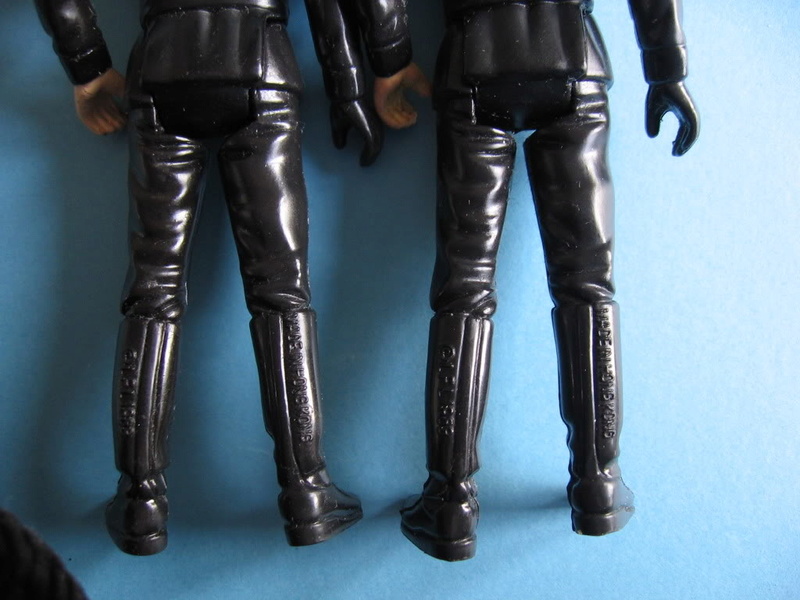 To give you a bit more background on this topic, below are a few quotes from Wolff's thread on RS: http://forum.rebelscum.com/t1072470/
Wolff wrote:

I have no proof of the following but to me it makes totally sense: The steel-molds were the original ones, the ones the first shots were made from. These were duplicated in steel, aluminium or brass. Aluminium and brass are more easy to work with because they are much "softer" then steel. Especially for the limbs (very soft plastic, less wear) no steel molds were necessary. In aluminium or also brass it would be possible to stamp the coos in with a lettering sytem similar to old printing systems. You have all letters made in steel which can be set together in the way you want them and get "hammered" into the molds. Therefore you would need softer materials then steal and it would explain many nearly similar COOs which just one letter out of line next to one where all letters are in line or another letter which is out of line.
Wolff wrote:

Another aspect from the coo-family is: Same mold but slightly different coo. Regarding the LXW again there can be two slightly different HK coos found. These 2 molds always traveled together and also were altered together.
COMPLETELY DIFFERENT COOs FOR ONE FIGURE
:
Some Ledy figures appear with completely different COOs. In some cases the different COOs match with differences in paint applications as well.
Examples:
- C-3PO (2 line and 3-line COO)
- C-3PO Removable Limbs (Hong Kong and no COO)
- Darth Vader (Hong Kong and no COO)
- Han Solo Bespin (Hong Kong and no COO)
- Leia Bespin (China and Hong Kong)
- Luke Bespin (no COO raised bar and no COO smoothly deleted)
- R2D2 (Hong Kong 1977 and no COO 1978)
- Yoda (Honk Kong and no COO)
Interestingly most of these figures were also released on the early "Imperio Contraataca" (ESB) cards. Maybe some of the COOs are linked to these early releases.  :scratch:
Lili Ledy ESB 10-back. Back. (Picture from SWCA)
***
MADE IN MEXICO (MIM) FIGURES
In the 80s, Kenner exported overstock accessories to Mexico to be packed together with Lili Ledy figures on "Made in Mexico' (MIM) cards which were subsequently exported back to the US. The following figures were packed on MIM cards:
Made in Mexico (MIM) cards (pic made by Rog)

There is a theory stating that Lili Ledy raised (had to raise?) her quality standards for these MIM figures as they were meant for the US market. This would have resulted in the usage of a better quality plastic and better paint apps. However so far this theory has never been supported by convincing evidence.
The common view is therefore that the differences between Lili Ledy figures and MIM figures if any are not significant enough to make a real distinction.
See for instance the quote below:
_Rog_ wrote:

 

As mentioned in that thread I don't own all the Lili Ledy guys that correspond with my MIM figures but from what I have gathered, Gam. Guard, Nien Nunb, Chirpa, Logray, Lando Calrissian, Ree Yees, Darth Vader, Paploo & Lumat are all pretty much the same. There may be slight differences in quality of finish between MIM & Ledy with MIM being slightly better, but I'm guessing if you took the nicest Ledy Chirpa for example and stood it next to the worst MIM Chief, they would be equal in quality (the LL might even be better!).

So once a figure was pulled from its card – either Ledy or MIM - you basically ended up with a loose Lili Ledy figure. Only the accessories on the cards might differ. On MIM cards you could have Ledy or Kenner accessories, or even a combination of both.
You can read more about this subject in these interesting treads
here
and here.
BOXED LILI LEDY ITEMS


More items will follow starting in 2013

JOIN THE LEDY DISCUSSIONS!!
The information in this thread is neither complete nor presents you the absolute truth on Ledy figures. There is still a lot unclear and left open for discussions. Also when something is plain wrong, just chime in and let us know.
Basically the main goal of this thread is therefore not merely providing an overview of Ledy figures but rather provide a starting point from which we can initiate discussions, in order to extend our common Ledy knowledge at the end of the day.
Questions/discussion points are indicated in
green
throughout the thread, let's hope we get some answers here soon!  
Don't be shy, and keep the discussion going here!.
***
USEFUL LILI LEDY LINKS
A list of links which I found useful when preparing the entries:
http://swspaceclub.com/wbobafett/lili-ledy-variants/   NEW
http://www.rebelscum.com/lili-ledy.asp
http://forum.rebelscum.com/t999154/#post16906903
https://www.imperialgunneryforum.com/t869-lili-ledy-merged-topics?highlight=ledy
http://www.spnet.ne.jp/~swcoll/06other/04lililedy/01lililedy.htm
http://www.lichtgeschwindigkeit.de/viewtopic.php?f=2&t=3812
http://www.starswar.eu/variant/contents/lililedy.html
ACKNOWLEDGEMENTS
This thread is setup to gather information around Ledy figures, present it in an easy format and initiate discussions so we can even learn more. It is a huge task, and I am very lucky I am not alone in trying to accomplish it. This is a is a joint effort of many TIG members who contribute in various ways, either behind the screens via mails or by posting in the thread. I would like to thank all of you for contributing and hope you are going to contribute more in the future.
A speciaI word of thanks for Ozio, for sharing his vast Ledy knowledge with me and for all the interesting discussions we have in mails. I meanwhile consider you a real friend, and hope we can meet in real life one day. I thank Wolff, the man who brought us the COO guide, which I used thankfully as the fundament of all figure entries. I thank Uli, Dan, and Rob for all the interesting Ledy discussions we had in the DEV section, mails and in chats in the first half of 2011. I miss you guys, please chime in now and then! I thank AJ for being one of the most active posters in this thread who keeps the discussions going on.
Thanks guys!
Marco