It's only a matter of time in the glorious world of Star Wars action figure collecting before you stumble across a factory error figure. Basically a figure that has slipped past the eyes of the quality control guys and ventured out into the World lacking something.
The most common factor error figures seem to be those that lack some area of paint, how ever they come in all sorts of forms, from unpainted areas to extra paint, moulding error's to incorrect limbs, all sorts really. I love it when I come across one, because they are in many ways unique, or at least probably rarer than your average variant. However, over the years I've noticed people don't seem as interested in them as me. As most of the ones I've picked up have been cheap or I've won them on Ebay for next to nothing, as I've, more often than not, been the only bidder.
Anyway, I thought I'd share some of the factory error and curiosity figures with you that I've picked up over the years.
First up, are rather frail looking Chewbacca.
This Chewbacca appears to be the result of a casting error, the body is deformed making him much smaller than the average Chewbacca and a little lop sided. He kind of looks like he really needs to take a piss!
Next up, a figure I've come across several times, an AT-AT Driver, although it's difficult to say who he works for!
As you can see, he's missing the Imperial insignia from his helmet. One of the great things about this figure is that it's in really good condition, as most collectors will know, finding an AT-AT Driver with no paint wear, especially to his hands and shoulders is quite difficult, so it was great to find one so nice and with the error.
Next up, sat right next to the AT-AT Driver is the AT-AT Commander.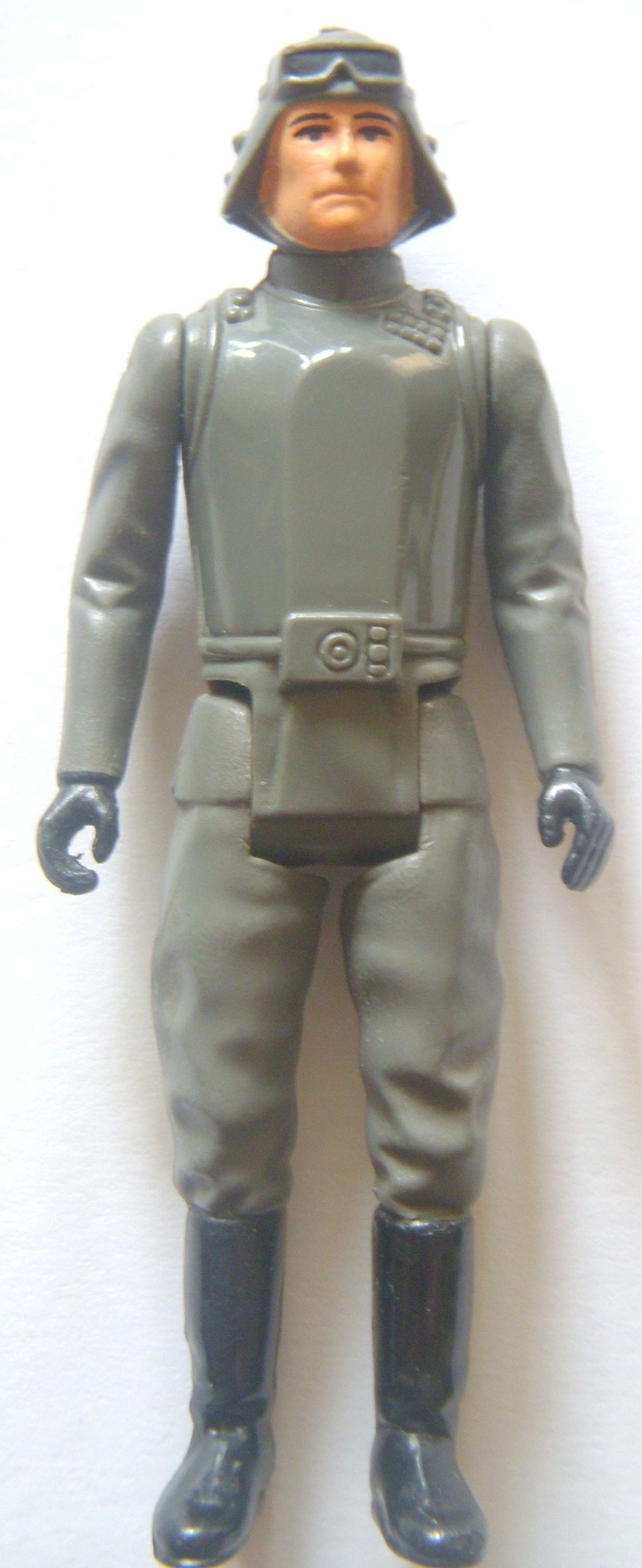 As you can probably see, the figure is missing all the paint from the front side of the torso. The back is painted.
Sometimes, factory error can be just tiny little things, barely classing as an error. One that occurs quite often, which often goes unnoticed is the holes in the boots being filled in by too much paint, as seen below on Bossk and General Madine.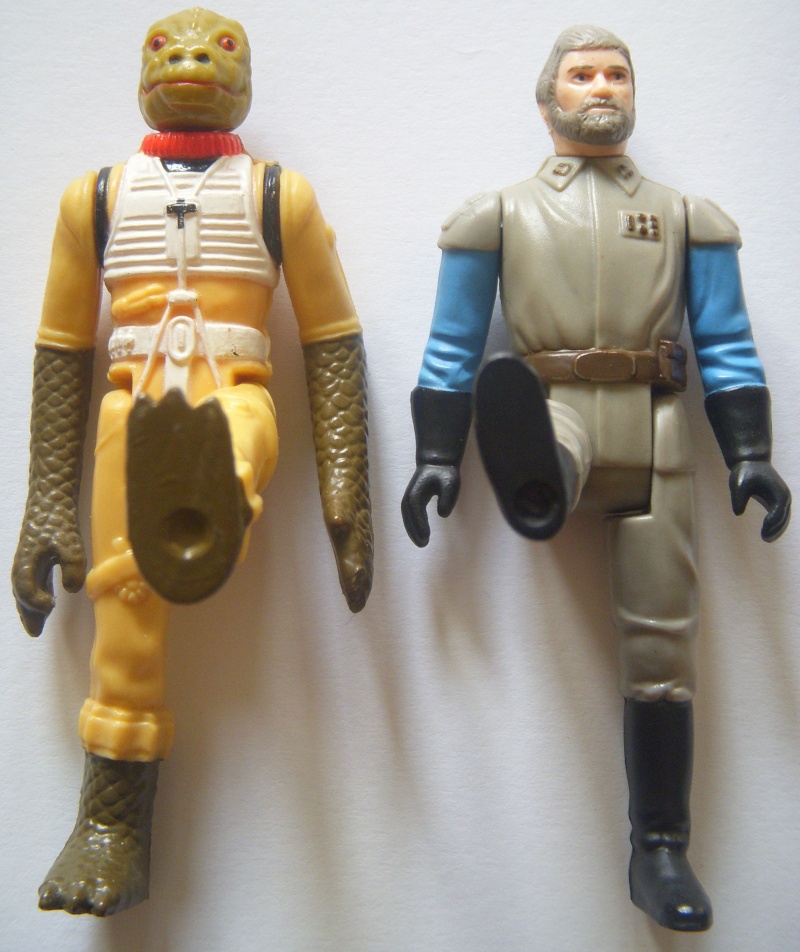 Another error that seems to show up quite often is the the lack of an emblem on the Death Squad Commander. Here are two that I've picked up below, one without and one with just half.
Next up is a classic, it's Boba Fett, and any reason to whack another Fett in you collection is always a bonus, especially if its wrong in some way. However the figure it's self does raise a few questions. See what you think.
As you can see the figure is missing not only the green paint from his chest, but the blue paint from his Rocket Pack. Now I've looked very closly at this and there is no way any of this paint loss is due to wear, the problem is the belt, which has clearly taken some wear as seen below. Who knows?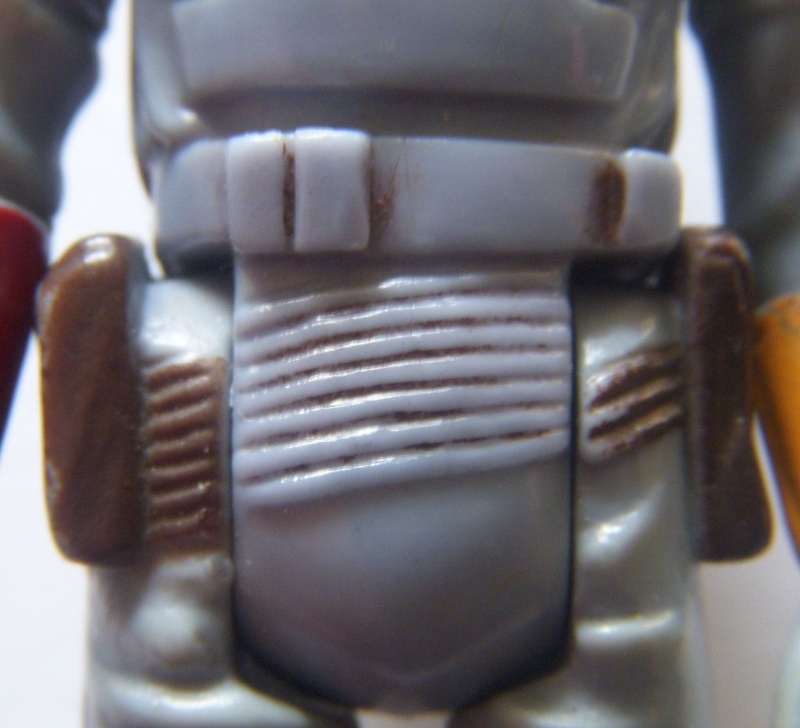 This next one is a classic curiosity figure, Bespin Leia with a scar on her face, it's simply a case of she been nicked with the air brush or something. I love it though because she's probably the only one of her kind on Earth, and I only paid two quid for her on Ebay, and she herself is in very good condition and came complete with an original weapon. Han must have drank a couple of Stella's that night and slapped her about abit!
Next, is a beauty, just because it's a last 17 figure, and with the shortage of last 17 variations out there, it's always nice to be able to put and extra one in your collection. The Imperial Dignitary with an unpainted hand.
Next is a Death Star Droid, simply lacking the black paint from his shoulders, I think the Uzay Death Star Droid had unpainted shoulders, so if anyone has any ideas on how to identify wether this figure is Uzay ( which I sussect it isn't ) your help would be greatly appreciated.