3
2
1
OK let's do it and go through all the old posts to see your newest stuff, starting at page 63 of the previous thread this time.
So fasten your seat belts and be prepared for
Dr Dengar's Monster Review
Stealthboy: Sweet Leia 12-back. Good luck hunting the other remaining six 12-backs to complete the run, keep us informed.
Adolfo: Amazing you manage to collect Ledy MOCs like they are Klaatu Skiff MOCs. Congrats on the Ackbar card dude! BTW, why you want me to look at Ackbar's butt?
@merlin wrote:


here is my recent acquisition LL MOC 100 % original ADMIRAL ACKBAR!! ..... ....It Cost me a little fortune, the carton and the figure are just amazing... but you can see the only "BUTT"..... anyway another great find!!

Chris: Fine Droids/Ewoks counter display!! Was it used for holding the VHS tapes? 1985 or a bit later?
Dallas: Congrats on your hollow tube Tusken Raider. Still have to add one for my collection, but those damn Ledys take all the cash right now.
Shawn: That Luke Jedi Multi pack is a truly nice addition to your focus collection. Never seen them before. Good luck trying to find the corresponding baggies.
Robbie: Nice lot of MOCs. The paint error on R5-D4 is a great find. I also like your 12 back Luke.
Dallas: Congrats on your Ledy Ree Yees. You are planning to collect more Mexicans, I mean –cough cough - licensed ones?
Joe: Nice Logray and Lumat Tri MOCs for your focus. I like the "Made in Mexico" in the bottom right corner of the Lumat card.
Soren: What a shame that your Leia Hoth MOC was damaged during transport. Did you manage to repair it?
Mirco: An unplayed Trilogo ISP-6, that's something you don't see every day. Very very very nice!!! The Nov '78 issue of Woman's day is also a great pick up. Have you already tried the crispy turkey recipe?
John: I am always amazed by the foreign MOCs you manage to pick up. The Meccano Ben is just great!
Dean: Congrats on your Glasslite R2-D2 MOC. BTW: Do you have a R2 or Glasslite focus?
Joe: Some sweet Tri MOCs to fuel your cool website. Congrats!
Paul: Love to see those minty loose figures.
Joe: That is insane, an instant Ledy collection!!! Congrats!!
Dallas: Some nice bootleg additions m8! The Han Hoth seems pretty accurate to the licensed figure. I like the golden/black Zuckuss.
BTW where is that pretty display you used last time to compensate for the ugliness of these bootlegs?
Emiel: Congrats on completing your Wampa run with another super mint addition.
John: Your Heavy Metal casted TIE Fighter Pilot looks ace and I agree, is totally unneeded. But who cares?
Adolfo: A Ledy Jawa MOC, this is crazy man!!! And to make things worse for me, you even add a AT-ST MOC with a paint error. Please stop it, I can not bear all those MOCs anymore.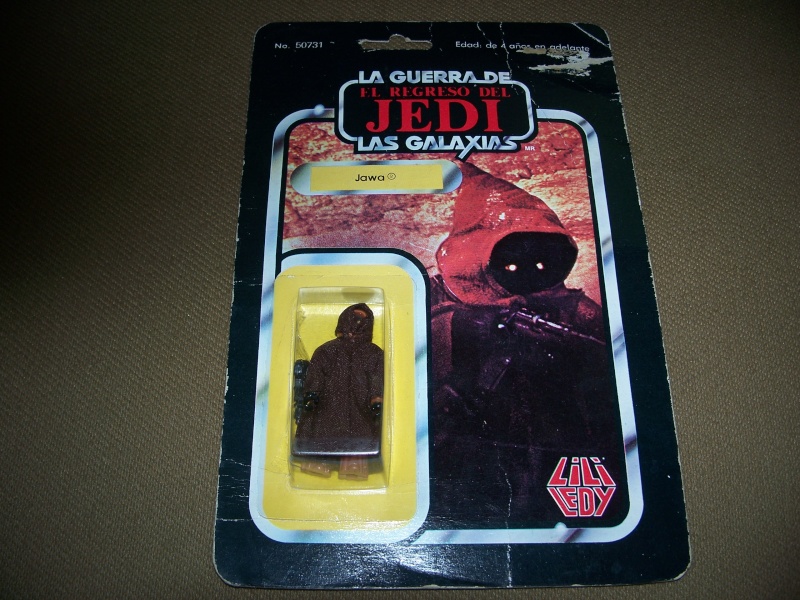 Paul: Some decent Mexi Luke bootlegs. Am I looking at the rare mustard on left cheek variant?
LOL, it appears I was not the only one thinking that.
@kisstour03 wrote:


Dallas- The brown Luke looks like he had too much mustard on his burger.
Brian: I love all vintage from Japan, that transformer X-Wing is fantastic, and even came with the box, having that cool Takara logo.
Congrats on your rare yellow light saber too.
Wouter: Nice score of vintage! The vinyls are great. You have the right equipment at home to still listen to them?
LOL scooped again, by John this time.
@Darthberizing wrote:


Wouter - Lets get a record player and hear those!!

Pete: Some Sweet MOCs with Nien Nunb and Ackbar offers. Very clear blisters!!
John: Love to see that Clipper Han.
Dallas: Some more bootlegs, the 2nd gen AT-ST driver and 3rd gen Fett are my favorites this time. Well done!
Who dares to say bootlegs are ugly?!!
Tony: Some amazing stuff I haven't seen before. Congrats on the pristine Die Cast X-Wing MOC and the multipacks.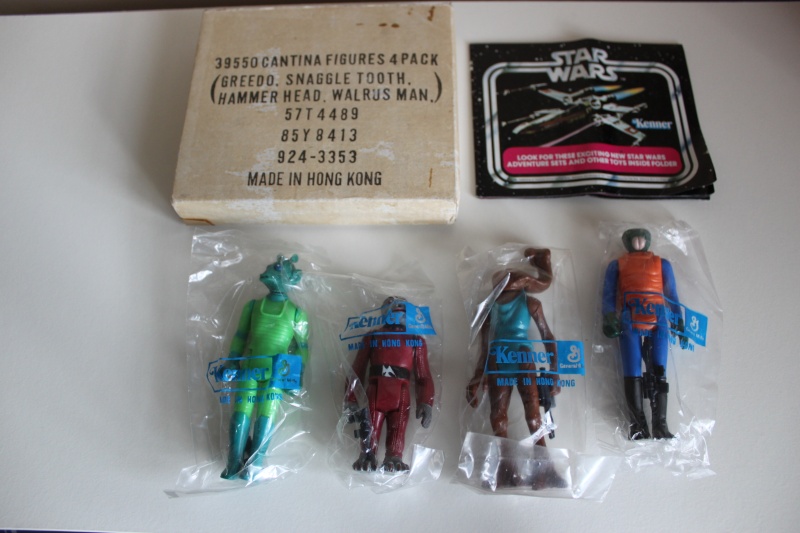 John: That header is kick ass!!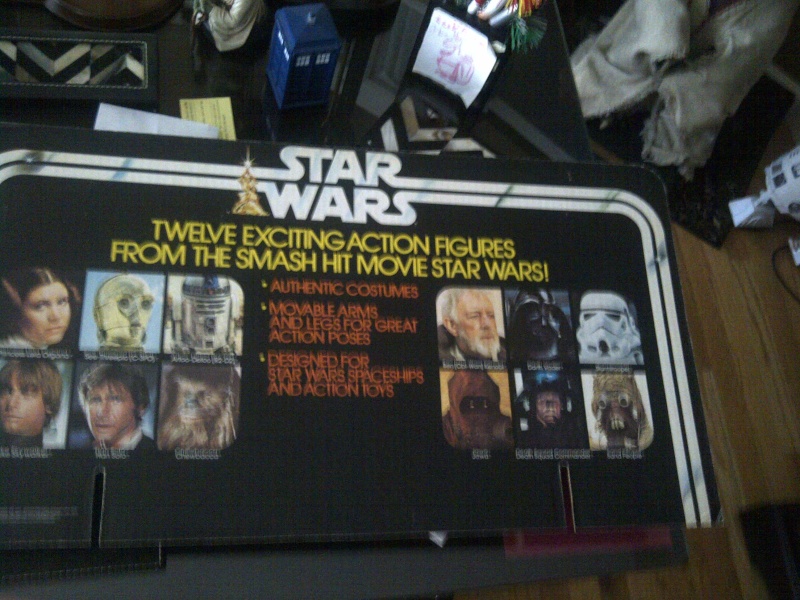 Serket: Congrats picking up a Ledy Vader for cheap. Good luck hunting the saber now. How about the cape, is it Ledy as well?
Lee: The famous black neck Lando in minty condition!! Congrats, well done m8!
Red5: Sweet MIM Squid.
to the Ledy club.
Wouter: As said before, that is an incredible lot for less. Congrats! This time I won't make jokes about the guitar anymore.
Shawn: Congrats on your red light saber. This is the 2nd one I see in this thread today, next to Brian's yellow one. I wonder whether we will see a green saber also today. Still 4 pages to go. BTW did these sabers have sound and/or light features?
Wouter: Some nice odd balls. What the heck is a Canadian R2 bank, something to draw cash from?
Andy: Crystal clear bubble on this ROTJ Snowie. Congrats!
Tad: You got me. At first glance, I thought WTF, what are those Meccano like vintage Kenner MOCs, and what is that miniature MOC doing there. Then I realized, I was seeing the things at the wrong scale.
These giant MOCs look pretty cool. Congrats on your SW-D Baggie Vader and ROTJ 65-A Vader.
Paul: Some more minty loose figures, Your collection is growing rapidly. I like the custom Polish black snowtrooper. Kudos for Dallas.
Tad: Some more Vader pick-ups. Fine Ledy puzzle and PBP MOC. Please share your experiences with the 'light tent', I also though about buying one to make better pics of SW figures.
Soren: Cool Japanese paperwork!!
Wouter: Sweet audio cassette!! So totally vintage.
Tad: Ok I see you have already made some pics with your new light box. They look pretty OK. What lamp you use to get the right lightning?
Congrats on the bootleg Vader. The 12 back Takara Vader is ace. I did not know these cards could also be packed with Kenner Vaders.
Bruce: Some very sweet Leia MOCs for your Leia Organization. My favourite is the Glasslite version.
Soren: Congrats finding those MOCs. The miscarded Rancor Keeper is a great find. How in earth could they have placed this fat bald guy on a Anakin card, look at the guy, he does not even remotely resembling him.
John: As always some sweet foreign MOCs for your focus. My personal favourite is the Tsukada Madine this time, just because I like Japanese stuff, but I admit the Toptoys Chirpa is not too shabby too.
Tad: Those Vader lamps are scary as hell. Great stuff. Nicely pictured as well. I wonder what other lamps were produced in the same line....
Wouter: A huge haul of vinyl, Great find m8! Now take some time to listen all these before you list another purchase.
Tad: Man you are collecting Vaders at lightning speed. Great AFA80 Canadian card!!.
OK done.....I enjoyed the ride, thanks for sharing all the nice stuff.
Cheers
Marco