Which vintage figures are best at holding their guns and accessories and which are not???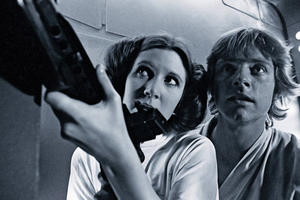 "Hey sis, how's that grip coming along?"
So, I was sorting through some of my loose figures and their accessories recently, and I started to think how Kenner had designed some of them really well in the way they held onto their weapons and accessories, while some, imo, had been designed pretty badly!
So, just for some light-hearted fun, here's my short list of the GOOD the BAD and the UGLY for holding onto those all important galactic blasters and sabers...
THE GOOD:
Walrusman - no trouble here with this dude keeping hold of his blaster! Go Wally!
Luke X-Wing Pilot - this guy never drops his gun! Kenner, very thoughtfully, moulded his fingers and thumb into a circle... meaning he had the perfect grip!
Han Hoth - not only could Han keep a pretty tight grip on his piece
but Kenner, very cleverly, gave him a hip holster to place his weapon inside for those precious 'hands-free' moments! Perfect for when he fancied a game of charades with Leia!
And those guys AT-AT driver, Luke Hoth, Rebel Commander and a couple of others with their cool rifle slings! Just great for that casual "slung over the shoulder" look. And perfect also for a quick game of charades with Han and Leia!
THE BAD:
Biker Scout - not very good at keeping his blaster this one! And when he did it was often pointing at a funny angle... meaning he was more likely to shoot one of his fellow scout colleagues than any crazy tree-hugging Ewoks!
Jawa - Oops! Sorry mate, was that your foot?
B-Wing pilot - his gun is so tiny and skinny the poor guy never stands a chance!
THE UGLY:
Lando General - agghh! No matter how many times I try I just can't get him to keep hold of his *!!*MU**THA*!*!!*FU*!**!!ING!!** gun!! Each time I think I've cracked it I turn around only to see that blaster lying back on the display stand next to Lando's feet, and Lando standing there grinning and saying: "Hey, it wasn't me! Say, anyone for charades?"
lol, it might just be me. What do you guys think? Do you have any good bad and ugly figures for holding onto their weapons and accs? What figures did you think Kenner made well in this department? I mean, the original sabers for Ben, Luke and Darth often have broken tips, but at least they never dropped them.
A vintage Kenner employee tests out the prototype version of the new Boba Fett 'ultimate eat space-lead mutha! blaster'. Sadly, this accessory never made it into production.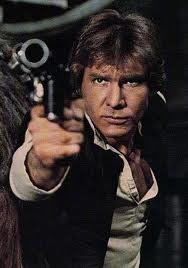 Han says: "That's the last time you tell me to 'get a grip' buddy!"