Ok first excuse my bad english
This thread is directed to newer collectors. I haven't been able to contribute much to the forum so I figured I might as well do this, some pushs by pms also did speed it up a bit.
Oh and if you use this and some how punch your leia cape or in anyway break your stuff I am not responsible
This is a guideline, think it through what you yourself think is better or worse.
1. How do you store your collection?
2. Plastic bags
3. Yellowing, Fungus
4. Why are sealed plastic bags bad?
5. Simple fix
6. Protecting accessories
7. How to pack
8. Storing in Plastic Boxes
9. Summary
10. The Expanded Storing Universe
10a. Creating a very very simple storing box for your favorite figure


A. Gathering Material
B. Creating the box Result


10b. Creating a suitable box from scratch


A. Tools and materials needed
B. Creating the box


10c. Easy cutout multipack from stuff found at home.


A. Materials Gathered
B. Result



1. So how do "you" store your collection?
The first problem that comes up as a collector is paint wear, and the easy way to avoid paint wear is of course plastic bags. Cheap resealable plastic bags.
I am pretty sure that many collectors store their collection in a box individually stuffed in a resealable plastic bag.
This protects against paint wear, moisture and fungus, sounds like a good idea. But is it really a good way to store? Yes and No. Read on.
2. Plastic Bags
As already mentioned plastic bags is what comes to mind for most collectors as the best way to store a loose collection. The bags are good for some years then they need to be replaced with new ones. They are cheap and you can easily mark them with a marker to know whats in the bag, variation, figure, coo etc. Excellent at keeping figures and accessories together.
3. Yellowing and Fungus
As you are collecting you might have noticed that some of your figures that where nice and shiny half a year ago have started changing color, or you have purchased some that just ain't looking right. This is a chemical reaction going on in the plastic and I wont go into details about it but UV light(Ex. Sun), Heat, Moisture, Cigarette smoke and much more can trigger this chemical reaction and you will want to avoid these factors to preserve your collection. So store in a cold and dark place? Dark and cold places usually have moisture, which affect your collection. So once again you might think "plastic bag". Some yellowed figures have even passed through as valuable variations, the most famous one is probably green limb Chewbacca where the arms and legs have yellowed but the middle body have not.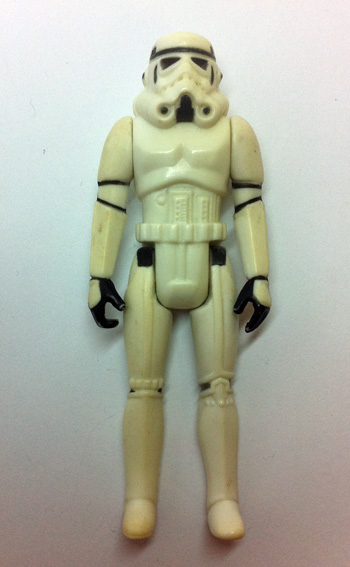 (A Storm Trooper that have yellowed / Green Limb Chewbacca)
The next part is fungus.
Fungus comes in many forms and colors. This pest can spread among your plastic items, yes it can spread and it will eventually if left alone.
Last time I bought a collection the owner thought it was some sort of spotted legs variant, this is not a variant, its a danger to your collection.
The second picture(Chewbacca) can easily pass away as dirt or dust but can infect your other stuff.
I'm not sure what kind of fungus they are, the white one might be a type of mildew.
Ones again "Plastic Bags!" duh. Protects neighboring figures by sealing the infected one in a quarantine baggie.
If you got any figures with fungus you should seal them off from your collection, plastic bags really are good here to prevent it from spreading. I've read numerous times that bleach will kill the fungus, but I've also read it can come back. I have never tried that myself.
But there is a much bigger threat to your collection then moisture and fungus and it's called "hydrochloric acid". How is this a threat to your collection?
Read more in next part.
4. Why are sealed plastic bags bad?
Your plastic figures will emit/create/leak out hydrochloric acid. hydrochloric acid affects plastic greatly by breaking it down, cause yellowing and other defects. You might feel that your figures are sometimes sticky, this is because of the acid breaking down your figure.
And here is the bad part about plastic bags. When you store your figures in sealed plastic bags, hydrochloric acid will build up and become trapped within the bag with the figure. This is a very fast way to ruin a collection.
5. Simple fix
This is what I do, and it's a rather low tech fix. It does not change the way you store your items very much.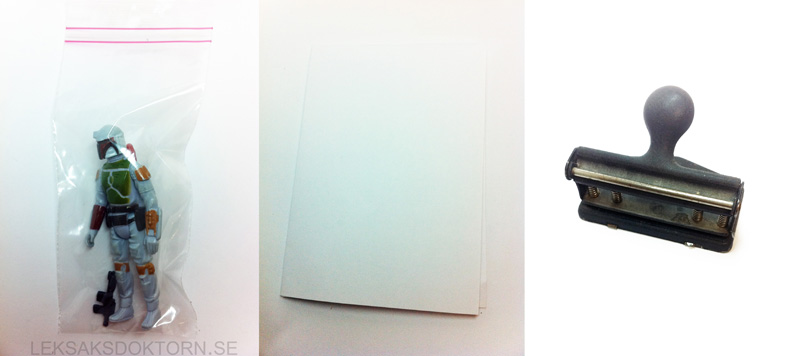 You will need the following items.
1. Plastic bag.
2. Folded paper or other material to stabilize the bag.
3. Hole puncher.
1. Put plastic bag on top of folded paper.
2. Put it in the puncher so only one of the four "hole punchers" hit the bag.
3. Punch the bag and you should have a round nice looking hole.
This will ventilate your bags and prevent acids from storing up within.
Considerations are that very small items like Leia Combat Poncho Gun might slip out of the hole.
This does not protect against moisture and fungus! so you have to be a bit careful at that part.
6. Protecting Accessories
Long items like the ERG Spear or fragile items like telescoping sabers, can be taped onto a small piece of cardboard while in storage. This should prevent other figures from bending or breaking it. It can also prevent items like B-Wing pilot gun to slip out of the hole made by the hole puncher.
7. How to pack
When packing down your collection in a box or something like it, start with the heavier figures first like Emperor, Gammorean Guard, Rancor Keeper etc. And store the fragile figures that got stickers or vinyl capes that are easily broken at top. This is to prevent unnecessary pressure on the figures. Even though you think you pack them well, things can get damaged ex. EV-9D9s legs, because of a long time under pressure from other figures.
8. Storing in plastic boxes
If you are storing your collection in this type of reliable plastic boxes, keep in mind that they don't "breath" and are rather air tight, these will need to be ventilated as well.
Drilling a couple of holes where air can get in and out will solve this problem. Just be sure you don't cover them.
I drill mine in both top and side, but if you have a potentional water hazzard nearby you should avoid drilling in the top part, because if an accident happen that would lead water inside the box. Drilling at the side of the box would in this case be much safer. Thanks James for the tip.
9. Summary
Storing the collection indoors(in house) in normal/mild temperature with punched bags away from sunlight and moisture is probably the best way, in regards to low costs and space. There are better alternatives like storing in indivudal boxes but they are more expensive and take up a lot more space. I hope you enjoyed reading this post, hopefully it helped out someone and good luck the next time you check up on your collection
10. The Expanded Storing Universe
I thought I could make a few no brainer tutorials on how to easily improve your storage. Most of these are childsplay and everyone can do these in a few minutes.
10a. Creating a very very simple storing box for your favorite figure(Level of difficulty: Child 4-5 years old)


One of the materials I like to use are foam, please note that foam can with age degrade to a mud like form which can discolor the item inside.
This however takes a very very long time.

A. Gathering Material. (Tools needed: Scissor.)
First step is finding a suitable box.
I dug around among my computer parts and found several great boxes.
Hidden inside this old 12Gb RAM pack was a few boxes that suited me fine for my purposes.


Second step, gathering foam. These type of foam can be bought cheap in stores but you can usually find some for free hidden in your home.



B. Creating the box and Result.
Check the size of the inner part of the box and cut out the foam so it fits tightly within the box.

The result is this very very simple box to store your favorite figure in.
Figures like Amanaman and similar should really not be stored in plastic bags among your other figures, something like this would protect it much better.
Depending on gap in the carboard you might want to make a hole in the box for better ventilation. Note that foam can degrade with the years and damage the figure.
This however takes a very long time.



10b. Creating a suitable box from scratch(Level of difficulty: Very easy)


Warning, NOT recommended for children because of the heat glue gun which could cause serious burns.

Having trouble finding a good box? You could use this simple form to create your own.

A. You will need the following:
Printer, Scissors, Cardboard piece roughly 20x25cm, Heat Glue gun. Use other glue or tape to make it safe for your children.
Right click on the link and save this form and print it out on a normal A4, it might say that it's slightly to large, the option re-size to fit printing area will work.
Link to form

Please note this is not a prefect box and the result will depend a lot on how you cut and fold. Some experimentation needed.

B. Creating the box
Cut out the form on the a4 and use it to mark the cardboard.

Cut the red outline and the black lines with the scissor, then fold after the gray lines in direction of the arrows.
Use the glue gun to glue the smaller pieces "A" to the inside of "B". Cut out a scavenged piece of foam(Gathered in 10a) and place it within the box.

You should now have something like this. The box inside will be 11-12cm and it will look ugly like hell, but work. No need to punch hole in it, this will let in plenty of air.
It doesn't need to be this thick cardboard either. I just use what I got lying around.


10c. Creating a cutout case for storing multiple figures(Level of difficulty: Child 10-15 years old)


Apparently my foam cutting skills are around a 10 year old so doing something much nicer then mine should be piece of cake. Ultimate would of course be machine cut foam.

Materials Gathered
I went to the supermarket to checkout a tip I got on the foam part but it was a waste of money. I bought 2 types of foam, the gray/blackish left color traces and dirt on the figures. Now I don't know if this could have been from factory and running them under the dish stand as they where intended for a couple of weeks would make them nice and clean but I a rather use faster alternatives. The yellow was fine so I figured I could use that. The box was from a radeon graphics card and already contained good foam, I added an extra piece from another box.


Result
So being short of glue I used a mild glue stick, this sticks pretty good and don't drip down. I cut out the weapon compartment for Leias gun first, then the figures. Now I pretty much saw at once that gluing these together before cutting the deeper figure shapes is much better but it was already to late. I cut both layers individually resulting in a much worse result then it could have been. As with the others this is very easy done with stuff found at home. I also put a sheet on the inside of the top part of the box to seal the figures and not let them get in contact with the cardboard.
If you have to glue together pieces of foam be sure to use mild glue, and make sure it's not in contact with your figures.