It's been a long time... but finally the medical room has been dusted down and our probe droids are primed and ready for their next victim er volunteer!

So let's welcome...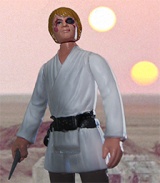 Screen Name: psybertech
Real Name: Jason/Jay B
Location: Northern New Jersey, US of A
Special Powers: can open a bottle of beer with any solid object
Welcome to the probing room, Jay. Here are your ten questions...
#1 What is your favourite SW memory? (film or toy line)
OK, FX!!! I will give you both!
FILM: Waiting on the line to see Star Wars the first time with my dad and Aunt-in-law(my step-mom's kid sister who was a year older than me). The line wrapped around the building at least two full times and we missed the first two showings waiting! It seemed like forever, but we made it in and since we all loved it so much my father taught us a trick. We went out the exit doors, but waited behind the curtain until the next wave started coming in so we just walked back out and sat down again to watch one more time! I love my pops!
TOY LINE: Getting my first Early Bird Set!!! I played with those figures sooooo much! I know I had two sets, but most likely I had 3 or 4 (part of a benefit of having divorced parents at two homes with two sets of grandparents to boot!
#2 If not Star Wars... (which other toy line do you collect or would like to collect)
Man there are so many from my youth, FX... this is tough!!!!
MASK, Transformers, Go-BOTS, GI JOE, the Six Million Dollar Man, Hot Wheels and more!!!
But it would come down to a coin toss between Go-BOTS and GI JOE. Go-BOTS were my main transfiguring toys. I only had a few real Transformers since family always bought me the cheaper Go-BOTS over real Transformers. But I didn't complain, I liked them.
In the end, GI JOE would take it though. My JOES and Star Wars figures went on many an adventure back in the day so it would have to be them.
FX-7 edit: here is a cool G.I.Joe 1981 advert from the rather cool site: The Vintage Toy Advertiser
http://thevintagetoyadvertiser.org/2011/04/15/g-is-for-g-i-joe/
#3 Which SW character would you dress up as if you were attending a convention?

Luke Skywalker in Stormtrooper disguise!
I would get the benefit to rock out my Graflex Luke Saber and also have an excuse to pickup that Stormtrooper armor I have lusted after for decades!
And, when the inevitable comment "Aren't you a little short for a Stormtrooper" comment would be made, I would respond with a lightsaber gash to their face!
#4 Which single SW character would you like to have seen released that was never released during the vintage line?
Rebel Trooper. Tantive IV Uniform.
I remember waiting for them to come out and they never did. I wanted/needed an army to fight my Imperial Stormtroopers! I never understood why they didn't and still to this day don't. As a toy manufacturer, single characters are one thing, but any figure kids want MULTIPLES of, should be a no brainer to produce!!!!
#5 What song would you perform at a Karaoke?
Since I can't sing and hate Karaoke, NONE.
However, if I was forced at gunpoint and my voice magically could make sounds that wouldn't kill innocent animals, then:
"Sound System" by Operation Ivy.
Don't ask, it is just one of those songs that makes me happy!
#6 So far, what parcel have you opened from the postman that has put the biggest smile on your face?
Man, ALL OF THEM! haha
Seriously, this is tough for many, many reasons.
So, I will give three specific packages that arrived and made me smile for three reasons:
Item #1: my remote controlled LED lighting strips for my display cases/areas. they are funny and cool when playing with them, yet, small and practical for all my lighting needs overall. They just rock!
Reason: Overall Collection Helper
Item(s) #2: IG-88, Dengar and Zuckuss. These were/are outside my foci. They aren't special in any way. However, these are the first figures I purchased just for my artwork! I wanted to do a Bounty Hunter 'thing', and I needed them to do it right, so I said, F-It and picked them up.
Before they arrived, I had my lighting tent and camera set and couldn't wait for the mail. When they got here I was so happy that I did it solely for my art (whether you like it or not, I do!
Reason: Artistic Something or another
Item #3: I could say a few things like my VC Jawa, POPY Luke, Blue Snags, Ledy or POCH Leia Bespin, but in reality, none of them made me happier than my 32 Back Yoda! I have had a Yoda thing going on for longer than I can remember and getting the 32 back of him for a great price and he was either my 2nd or 3rd new MOC since starting so he really, really made me smile! I was and still am so happy to have him. I would like to upgrade him one day, but I will never part with this one in particular since it pretty much marked the point where I knew I was all in on collecting!
FX-7 edit: here are a couple of Jay's rather cool figure art pieces...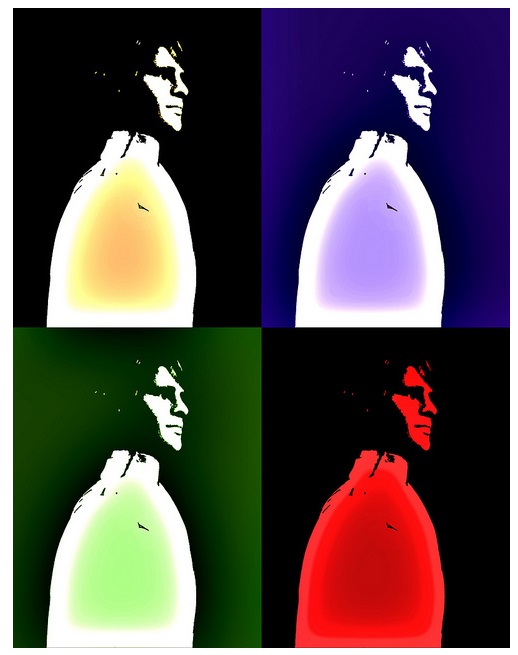 #7 What was the name of your favourite toy store as a kid and why was it your favourite?
There were two really and the reason for both is the same.
My mother loved shopping at the local malls, so depending on where we were, I was allowed to wonder Child World or Toys-R-Us.
I loved any store that had Star Wars stuff of course, but either of those two must have seen me spend many an un-supervised hour at!
And, this might annoy some of you, sorry, but I was GREAT at replacing price stickers! I would do it all the time (before they started making the tear-away, destructive styles). For playsets, vehicles, creatures and even figures, I rarely paid full price. Sadly, I was also a cleptomanic so sometimes figures would mysteriously find their way into my pockets or even my mother's purse. Yeah, sorry, I was a little bugger, I know, not 'cool', but perhaps it was just the force working in mysterious ways.
#8 Time machine question a) It's 1983... Kenner executives are giving you the power to make any SW themed toy you like! What do you make?
The Star Destroyer!
I always wanted a HUGE playset. One that would take up an entire room or at least a big portion of it. I wanted holding cells, control rooms, docking bays... the works!
#9 The Big Trio question! Luke, Han and Leia have lots of action figures made between them... tell us who your favourite Luke, Han and Leia is and why...  
Let's start with Han.
Favorite Han would be Hoth Han. He added excellent outdoor play in the winter and snow. He had a holster that could ACTUALLY HOLD HIS BLASTER! Come on!! That rocked!!!!
Favorite Luke - obvious - Farmboy. He is just too iconic of a figure for me. I watched A New Hope more than the others (OK, Empire was close), but before that came out, it was Farmboy all the way!. Yes, X-Wing Luke had his place, but Farmboy Luke with the telescoping saber just rocked!!!!!
FX-7 bonus point awarded for mentioning LXWP!
Favorite Leia - wow - January of this year, my answer would have been the original white Leia. But something happened when I found TIG and got 2 Bespin Leias in the mail on the same day early when I first starting collecting... I found something called variations! hehe
It wasn't just the variations that sucked me into Leia Bespin, it was how many there were, plus that figure, don't take this weird, looked like a woman. She is pretty and very well done IMO. Leia now had lipstick (on some), sideburns (on some) and a fancy dress! You know I could go on and on about her so I will stop here.
#10 Describe your collection in 25 words!
loose first 12, Luke farmboy, Leia Bespin, VC!, custom displays, custom figures, my artwork, TIG forums, new friends, research, headaches, expensive, time consuming but FUN!!!!!!!!!!!!!!!!!!
Thank you Jay for taking part. We hope you enjoyed your probing!

Coming soon... our next victim volunteer to take the probe!