Dear Prop Replica collectors,
We are proud of launching the Indiana Jones" Raiders of the lost ark" German´s soldier cap. Film Prop.Replica!Limited Edition to 10 units!!.
This is the most accurate film German´s cap from the Indian Jones´s film ever made!
100% Hand made, with the most accurate and best quality materials
We work professionally in costume developing and designing in TV and movie films since 15 years ago!
Once they are gone, they are gone !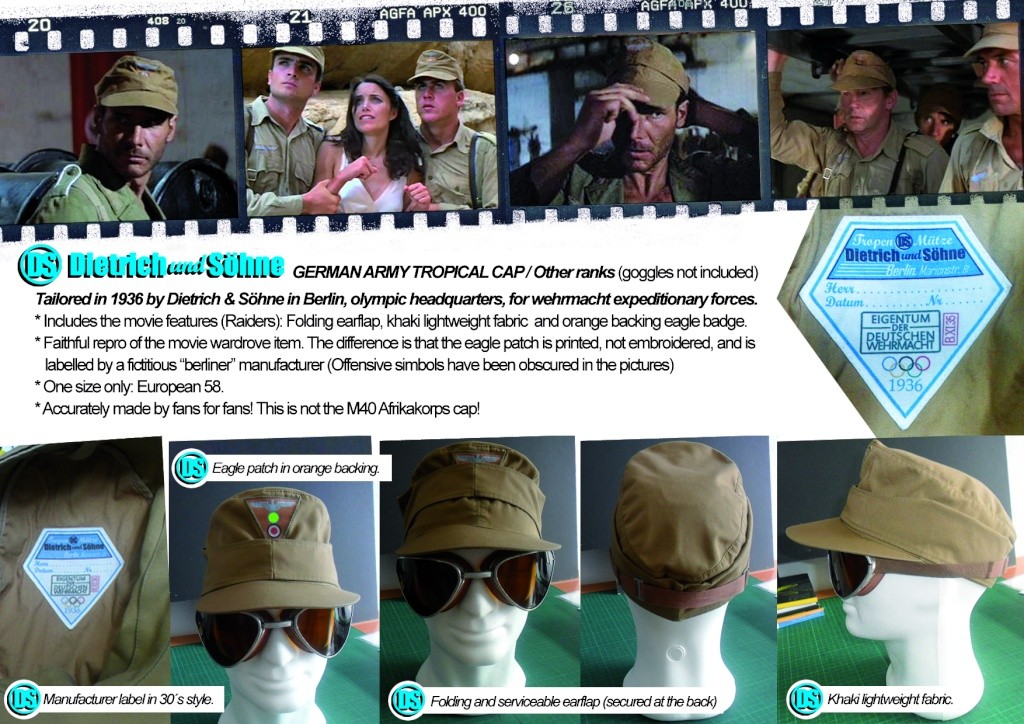 Description of the item:
GERMAN ARMY TROPICAL CAP/ Other ranks (goggles not included)
Fictitiously tailored in 1936 by Dietrich & Söhne in Berlin, olympic headquarters, for wehrmacht expeditionary forces.
* Includes the movie features (Raiders): Folding earflap, khaki lightweight fabric and orange backing eagle badge.
* Faithful repro of the movie wardrobe item. The difference is that the eagle patch is printed, not embroidered, and is labelled by a fictitious "berliner" manufacturer (Offensive simbols have been obscured in the pictures)
* One size only: European 58.
* Accurately made by proffesionals! This is not the M40 Afrikakorps cap! Limited series!
PRICE 70 EUROS
Shipping cost by registered mail 5€. WorldWide
Payment PAYPAL Gift
Contact:jruilopez76@gmail.com
Buy with confidence ,We have 100% positive feedback on 14 years of collecting and dealing:
Ebay:javiswspain on eBay
RebelScum:http://forum.rebelscum.com/t1036176-2/
TIG:Feedback for javiswspain - Page 3
PLEASE NOTE: This is an UNOFFICIAL item.This item is not related to, endorsed by or associated with LucasFilm LTD in anyway.
Thanks and good luck!
Javi