This is just a bit of info people may not know
I came across this on Ebay I did not link the sale as the auction is still ongoing, The reason I did this is for a bit of info people may not be a wear of.
Here is what is in the auction with the description
]color=#000099]1977 Vintage STAR WARS Kenner LOT of 50 WEAPONS BLASTERS 100% Authentic Original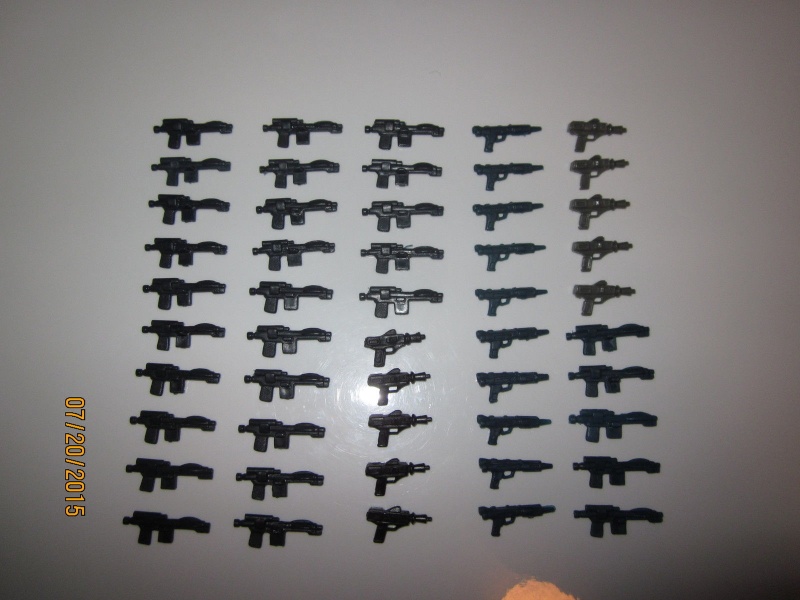 All my Auctions start at $0.01. Please Visit & Follow my Site/Store.
Need more time to pay or Bidding/Watching on more items - No Problem - just contact me.
I Accept PayPal Only. Ship Fast & Safe.
Returns Accepted. Buyer Pays for Return Shipping - No Exceptions!
Combined Shipping. International - Ebay Global Shipping Program.
Please View All Pics and Read Full Description.
NO REPROS - EVER! All of my weapons and accessories are Authentic!
Float/Drop Tested and Cross Referenced with the Imperial Gunnery Website!
LISTED ITEM(s):
1977 - 85 Vintage STAR WARS Kenner - 3 1/2 Inch Figure Line:
WEAPONS LOT: 50 Pieces - All Blasters.
Vast Majority Excellent through Excellent/Near Mint, the rest Good - very minor blemishes/scuffs. No Broken or Missing parts.
Blue/Black Imperial Blasters - 25
Black Pilot Blasters - 5
Blue Bespin Blasters - 10
Gray Pilot Blasters - 5
Blue Imperial Blasters - 5
***Shipping Includes - Shipping, Handling, Insurance, Delivery Signature! [/color]
I am guessing when some of you (mainly the younger crowd) see this type of thing you wonder how could you have so many weapons and where did you get them at. The truth is when the figures first started coming out in the 70's and onward if you lost a weapon or whatever you would send Kenner a request for a replacement one, Now here is where you see where all these weapons come from
, Kenner had made thousands of weapons (mass production) so when they got a request for one it was common practice to just bag up a bunch of weapons and send them to the person, I personally needed a Han Solo one so I contacted Kenner I got my Solo One along with like 70 or so other ones a varying types. but I was a kid so they were just lost or given away lol.
So people who were older and thought maybe these would be worth something as the popularity of the Star Wars phenomenon grew would send Kenner request for weapons and bingo lots of star wars original weapons ar in the market to be bought. This is a thing that still happens with figure line, Plastic model companies etc If you need something just send a request and they will send you a replacement free of charge.