So I think this is my first proper post. Hope it's posted in the correct place etc.
Ok! I have been collecting mainly DSC now for some time. There are so few COOs to hunt with this figure it has always left me a bit puzzled???
Well today I would like to add a new piece to that puzzle, in what I believe to be a previously undocumented country of origin stamp.
...Which as usual poses more questions that answers!!
Apologies if I've missed something obvious in what I'm about to say, but I'm pretty blown over today by what I've discovered, if indeed I am correct.
I'm about to embark on some pretty high level geekery so hold onto your hats!!
As a point of reference I would like to use (as I'm sure most of us to) 2 sites that have helped me so much:
http://swspaceclub.com/…/coo-gu…/anh/death-squad-commander/…
https://www.imperialgunneryforum.com/Vintage-Star-Wars-COO-G…
Squad Commander / Star Destroyer CommanderC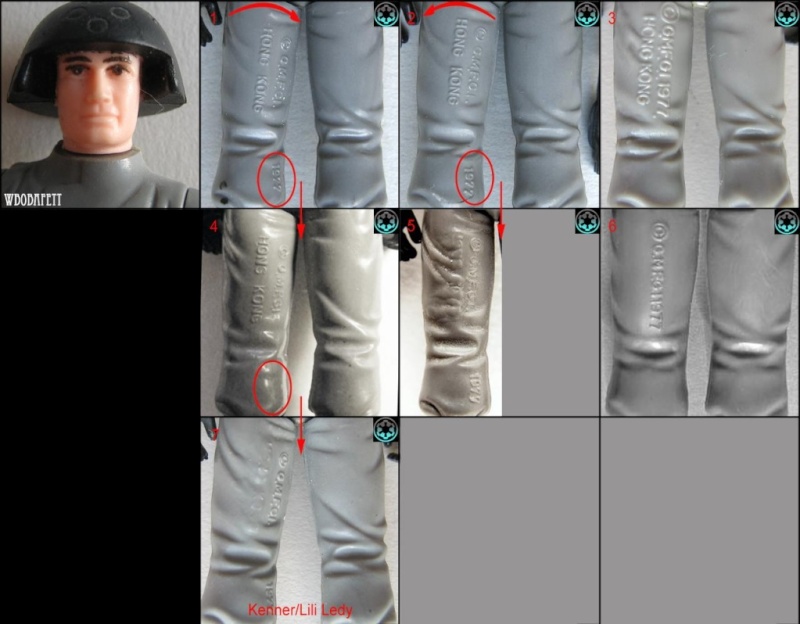 Without these resources alot of us would be in the dark I'm sure!
I have been researching this figure for over 2 years now, I own well over 250 loose figures, and am working towards a much more comprehensive guide of this figure.
However in the furthurment of the hobby and the vastly more experienced pooled knowledge base we all now enjoy, I had to share this ahead of that work.
To date other than international variants (Lili Ledy, Poch) once you have tracked down the 5 easiest coo types (1-3, 5 and 7 on Imperial gunnery, I1a-II2b of variant villain) there isn't much more to do with this loose figure hunt.
Unless you are plain lucky or have very deep pockets then tracking down one of the 5 or 6 documented figures of the rarer No COO is near on impossible (COO6 on IG and III1a III1b on VV)
This figure has loosely come to be known as the PBP DSC or sometimes even Disco DSC, although as no carded examples are known to exist we still know very little about it origins.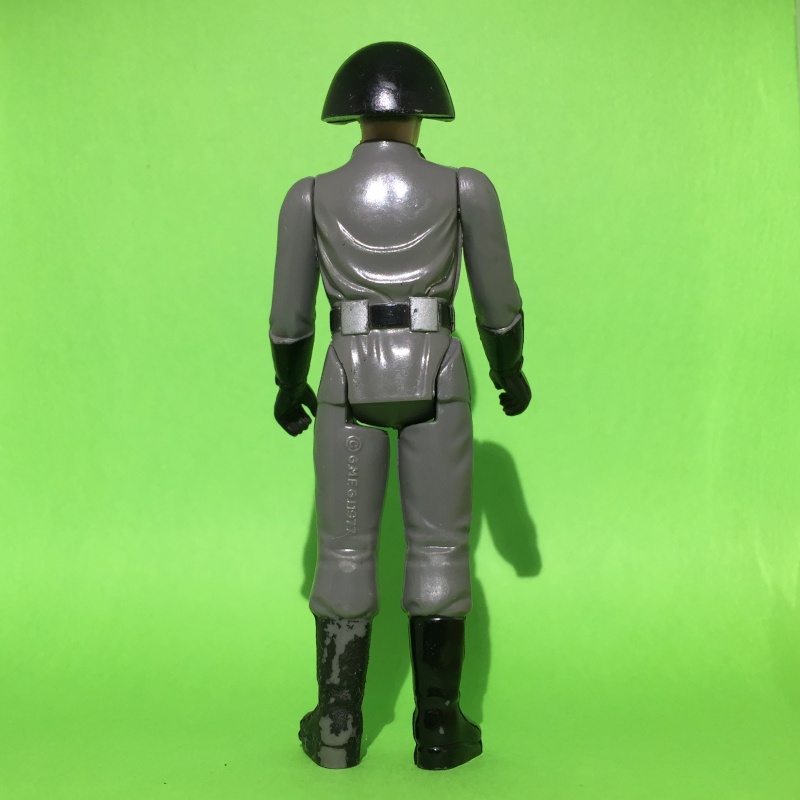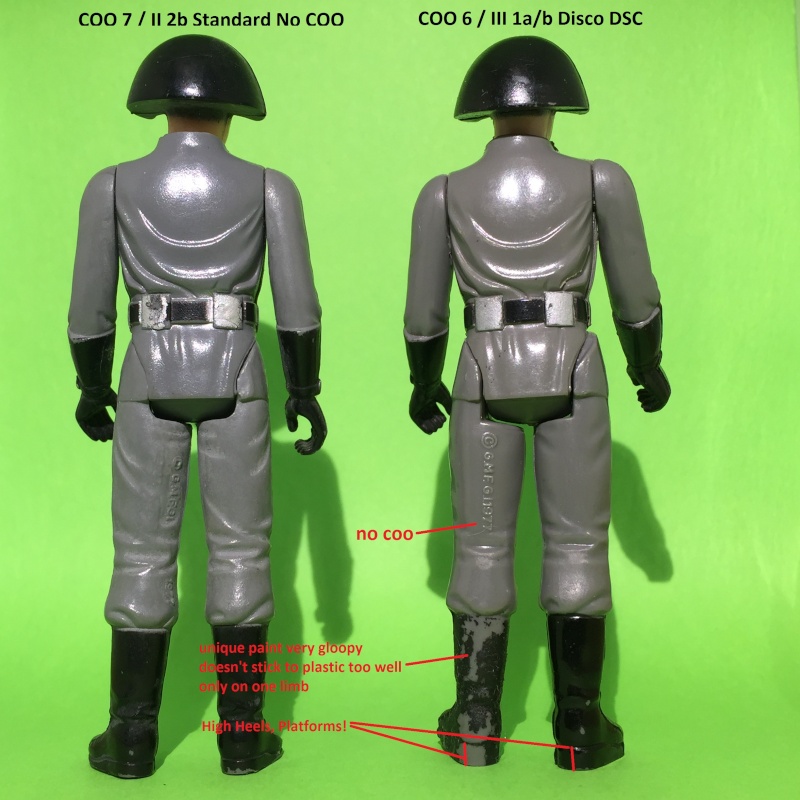 This figure is a real grail piece for loose collectors.
Other than the COO difference, this figure has a different sculpt not only to the boots but also to the hand/arm.
You can see he has high heels or platforms giving rise to the name Disco DSC but the figures left hand has had a complete overhaul.
The only other main difference I have noticed, in some of the other photographed examples as well, it a completely different paint scheme only on some of the limbs, to anything else I have ever seen in the entire vintage range, home and abroad.
I was lucky enough to find one in the wild in the UK, I did spend almost every spare minute for over a year searching for it however!
I have never even seen, other that the photo on TIG an example of TIG's COO Guide 4 (Missing Date Stamp).
I would love to track one down if anyone finds one, even if it was just to take some photos as until today I thought that was the last piece of the DSC jigsaw for me.
But today completely in the wild I have discovered a new COO stamp.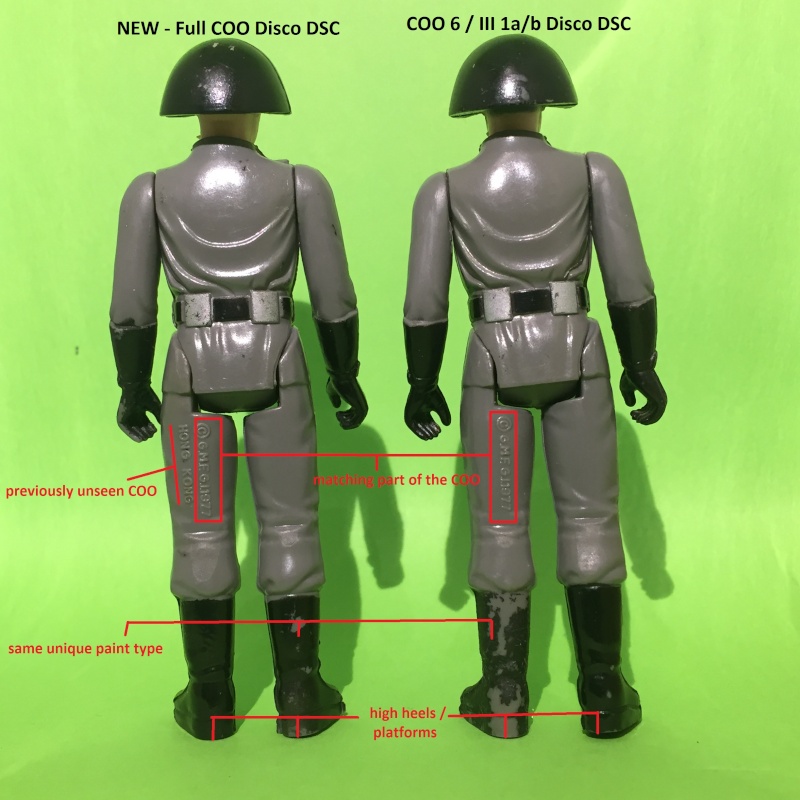 This stamp is the full stamp I image pre-dated the no coo stamp on the disco dsc figure.
The new figure has the full COO stamp including country of origin, and the disco boots, new hand sculpt and even one or 2 limbs with the completely different paint applications.
The plot thickens to be honest!!
It completely changes my views on how the No COO Disco DSC came in the food chain, and as I have said only asks more questions that it answers.
For an entirely new COO that you image would pre-date the No COO Disco DSC, how come it has the same (presumed) updated sculpt and the same (presumed) test paint applications are applied to this figure?
Why aren't there berzillion examples of this newly discovered figure, if it made way ultimately for a new mould set up without COO? Isn't this presumed to happen when the moulds are sent to a new territory?
This figure was discovered like my NO COO example in UK childhood collections.
Well I tried to keep it light short and sweet, and I hope at least a few of you followed me to the end.
Would love to hear your views, and any help is always appreciated.
These days I am mainly after pre-production DSC pieces, but any DSC anomaly or rarity is of interest!
Thanks for persevering!!!