CONTENTS

* How to post photos to the forum.
* Associating your Facebook account (for existing users only).
* Setting up notifications and how to see them.
* Tagging someone.
* How to contact the TIG team.
How to post photos to the forum
There are four ways to post pictures to the forum:
* Upload via your mobile phone!
* Upload with the forum in-built Servimg feature.
* Upload and save to your personal gallery on TIG.
* Upload via a photo hosting site such as Photobucket. *
* in 2017 Photobucket asked their users to pay a fee to continue using their service to host images on places like forums. This has resulted in some images at TIG being forcibly removed. TIG advises that you no longer use Photobucket here and instead take advantage of our Servimg or Galleries options which will always remain FREE to use so long as the site continues.


Posting pictures using the mobile phone attachment feature
We posted about this feature a while back when it was discovered that adding a picture into a post can be done as an attachment which makes it so much easier than the other ways you can post pictures.  Notice the attachment feature can be used but there are a limited number of attachments that can be done per user so if you exclusively use this feature it is capable of running out of room which will force you to delete older attachments meaning a thread that may need the picture in it will then be left without a picture.  For this reason we ask if you are on a desktop or are capable of posting pics in one of the previous methods please do so (especially for threads that are very important in order to keep knowledge from being lost)
1.  To use the attachment feature first you need to hit reply to a thread.
2.  Notice at the bottom under the reply typing section there is a section that says attach file.
3.  Click browse and then find your picture and select it and then click open on that window.
4.  You can fill out the comment section in the same box to label the picture or leave it blank, but the next step is to fill out the reply text and then select the send button in the attach file box.
After the attachment is made you will see it in the box and notice that you can attach more than one photo if needed
Now is your chance to make a comment for the pic and add text to the reply if you desire.
The picture should now be attached to your post.  If you hit preview on the post itself you will only see the text as the attachment pictures do not show up in the preview option.  Finally hit send on your reply as you normally would and now when the post is put in place it will show the attached picture.  The attached picture will show up in a gray box with a download option in the box.  
Other users must be logged in to see attachments as it will not show up for unregistered users to see.  Other users may click the download option in the box to see the picture larger as well.  The following is an example of a picture done using the attachment feature:
Posting using the forum Servimg feature to upload pictures:

1. When you want to add a photo when replying to or making a post click the "HOST AN IMAGE" button.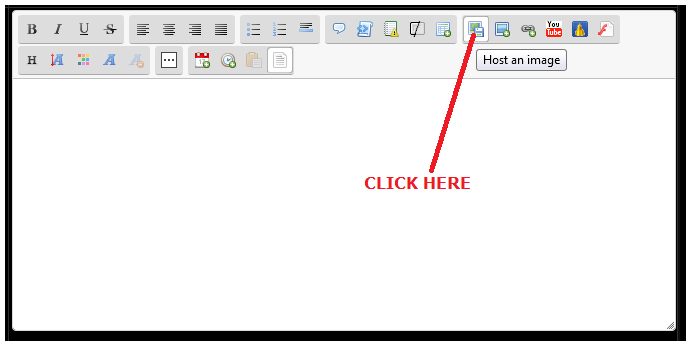 2. Click the "SELECT FILES" button to locate your photo stored on your computer or device. You can drag and drop or select individually.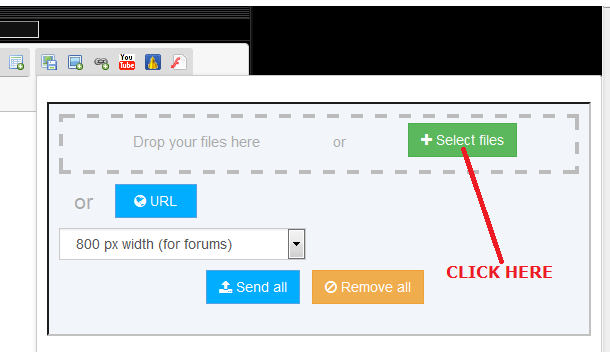 3. When your file(s) are selected click either "SEND THE IMAGE" or "SEND ALL"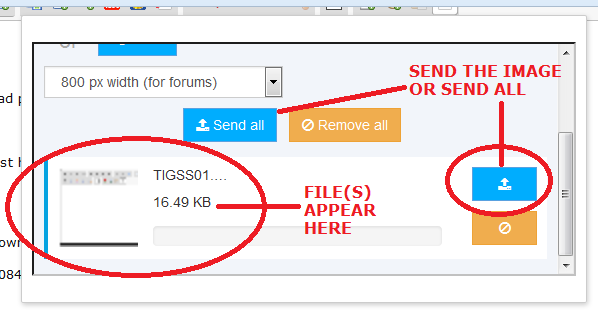 4. A new window will open. From here you can choose between 3 options.... a link, a large image, or a thumbnail image.

5. Copy the code and paste onto the blank screen area of your post. Or, click on "INSERT ALL" if you want to upload multiple images.  On the ipad I was able to put 20 images in (presumably could have done more) and click insert all and it automatically put them all in the post without me copying or pasting anything.  On the desktop this worked for me only after I typed a message in the reply section. If it does not automatically insert the links for you, you may have to copy them each individually and paste them as before.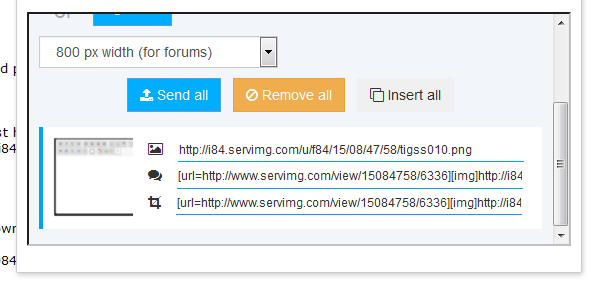 6. Finally, hit the "PREVIEW" button below your post to see how your image looks.
The "Preview" shows how your post looks including text and any files. If all is good hit "SEND"
Posting using the TIG Gallery feature to save and upload pictures: all TIG members receive their very own personal gallery space!
1. Go to "Galleries" on the tool bar at top of page.

2. Go to "Your Personal Album".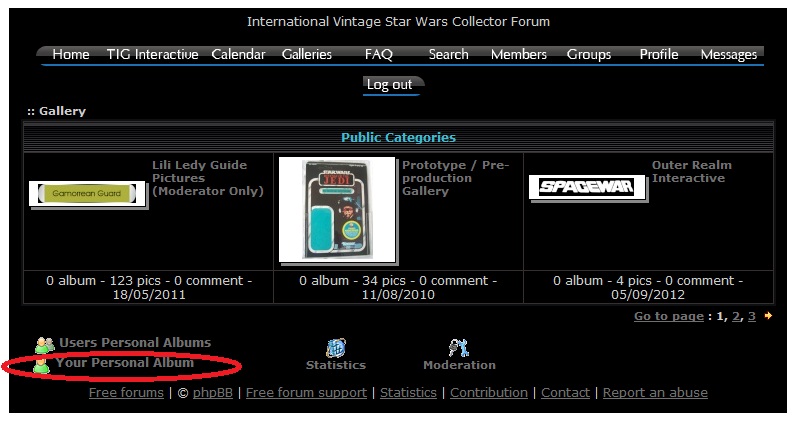 3. Go to "Upload Pic".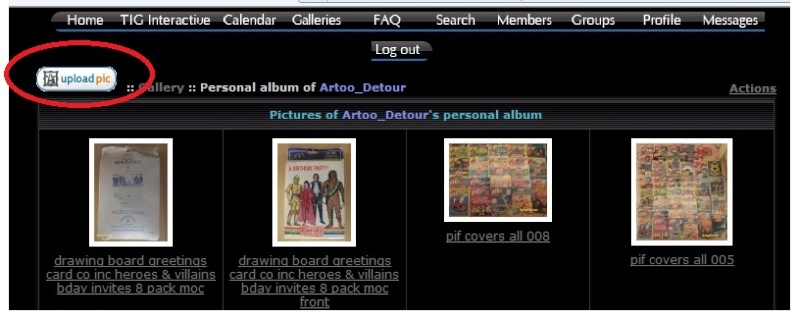 4. A new window will open. "Search" for the photo you want on your own computer, upload then hit "Save".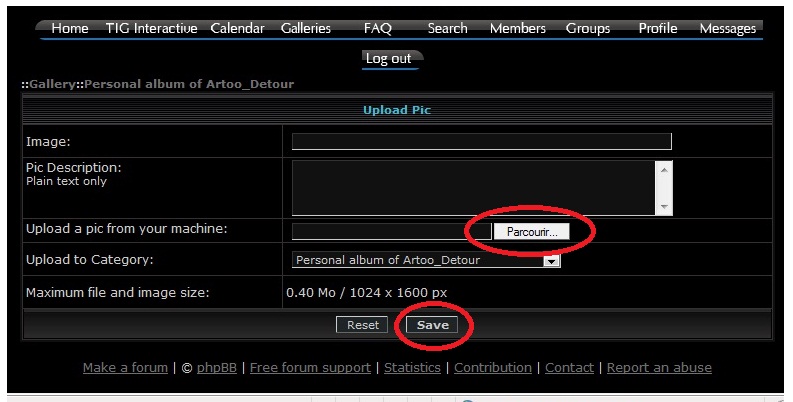 5. You will receive a message saying 'Your picture has been uploaded successfully' then you will be automatically redirected to your album. Click on the photo you have just uploaded.
6. Copy the code and paste into your post. You can choose from a thumbnail or fullsize pic.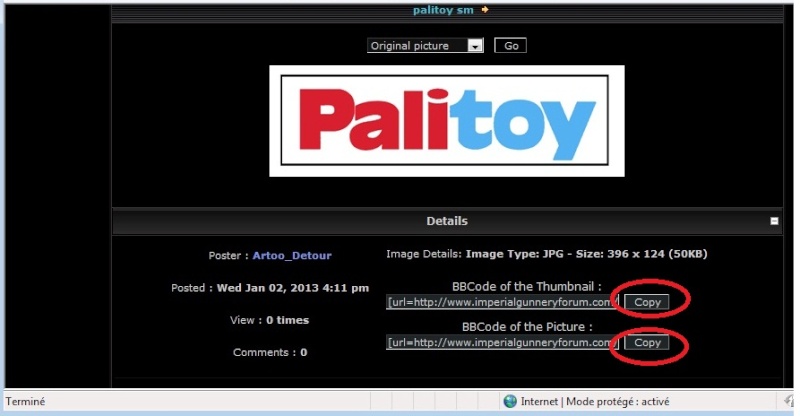 Posting using a picture host such as Photobucket to upload pictures: