Hi All,
I own 7 raiders and have had numerous go through my hands previously but I have one that baffles. It's silver paint is darker than others - does anyone else have one like the one on the left of the below image? (others are there for light comparison purposes .... and I'm just showing off my hollow tubes one because I love it and it's new ;-)
... and confusingly, its on the right in this closer-up image taken inside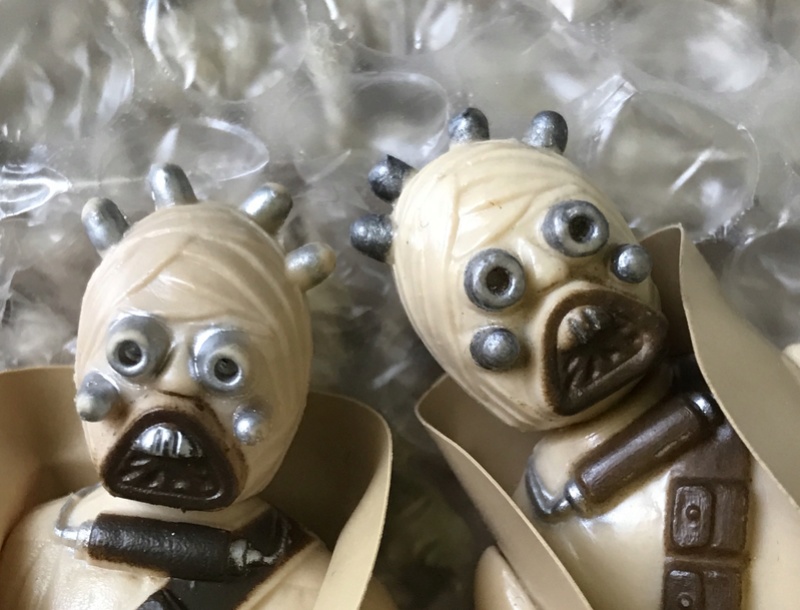 One observation is that there is the darker silver paint in the gaps/crevices in the mouth "bumps" but rubbed off (or never applied) on the outer edge, this suggests it might be real too.
But then the paint is bumpy rather than smooth and I've never come across a kenner figure that didnt have smooth paint.
Also, this one sold on eBay seems to have darker paint too which suggests it
might
be legit?
http://www.ebay.com/itm/LOT-Sandpeople-Sand-People-Vintage-Kenner-STAR-WARS-Figure-Original-Complete-/182326734693?hash=item2a73852f65%3Ag%3AzokAAOSw4shYBpTe&nma=true&si=5XTHaHAY%252Fe%252Bq%252BG7EReoiEk2QeJ4%253D&orig_cvip=true&rt=nc&_trksid=p2047675.l2557
Thoughts? comments? Anyone else have one with darker paint in their collection?